AR15 Bolt Releases/Bolt Catches:
---
This new Bolt Catch has a larger bolt release pad that is much easier to locate and activate. The second benefit is the lower extended pad, which is used to hold the bolt carrier back when the magazine is not installed. This feature is excellent for tactical training when the magazine must be removed. Easy to install by removing the exterior roll pin and installing the new roll pin, which is included. Installation at DPMS is also available.
Large, serrated, thumb pads are easier to feel and activate in the dark. Extended lower pad gives your thumb positive purchase to quickly lock the bolt carrier to the rear. Easy, no-gunsmithing installation. Includes new roll pin.
---

Wilson Combat AR15 Extended Oversized Tactical Bolt Release


The Wilson Combat oversize bolt stop is designed to assist you in the fastest possible reloads in your tactical rifle. Fully serrated and CNC machined out of bar stock steel for maximum durability, the bolt stop is also easy to install. The oversize bolt stop also works well for shooting your rifle while wearing gloves.
---

Sure Shot AR15 Extended Bolt Release


Lets you close the bolt without shifting firing position; gives match and tactical shooters faster reloads. One-piece unit clamps over factory release, extends the release down, to be just opposite your trigger finger. Original bolt release remains operational; locks the bolt open in the normal manner.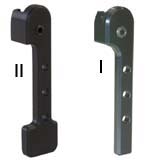 ---
---