AR15 Buffers and Accessories:
---
AR-15 Buffers
---
Lightweight, aluminum alloy buffer reduces the reciprocating mass of the operating system to reduce the overall recoil impulse felt by the shooter. Helps the competitive shooter keep the sights on the target for precise follow-up shot placement and tight groups. Designed for competition rifles with full-length receiver extension tubes and lightweight titanium or aluminum alloy bolt carriers, as well as any conventional mil-spec carrier where reduced mass is desired. Combine with a lightweight carrier to virtually eliminate felt recoil and increase bolt velocity without significantly impairing reliability.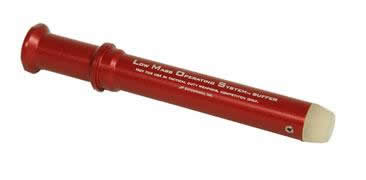 ---
This is one of the best buffers on the market today for AR style rifles! Reduce felt recoil, improve accuracy, reduce fire rate, suppress bolt bounce, and protect your valuable optics with this simple drop-in replacement.
Designed for AR-15 rifles with a full length, fixed stock. This buffer has a piston that is hydraulically dampened to absorb the shock of impact from the bolt carrier and to prevent bolt bounce. This is a proven system that is utilized by civilian competition shooters, military and law enforcement personnel. This buffer was designed for 5.56mm / .223 cal. rifles, but also works well with a wide range of cartridges including 9x19mm, 6.5 Grendal and 6.8 SPC. Has even been proven to work well with very large calibers such as the .499 LW and .50 Beowulf.
Seldom do you find an AR-15 product so simple to install, yet offers the many advantages this buffer delivers. Our Gun Techs tested these units, and were so impressed with the performance, we teamed-up with the weapon experts at Enidine to offer them directly to you. Quite possibly, the AR-RESTOR is the biggest breakthrough in rate-reducing, recoil reduction systems available for the AR-15. Best of all, they install in minutes, without any modifications to your weapon. Long known for their successful development of recoil absorption devices for the U.S. Military's M240B, M249, and M2 machine gun, Enidine now produces these easy-to-install, direct replacements for the conventional, inertia mass type buffers currently in production today. Never before has it been this easy and economical to manage recoil and rate of fire in full- or semi-automatic modes of fire, plus improve the overall reliability of your AR-15. Each steel buffer assembly features a sealed hydraulic cylinder with high-impact striker cap and smooth running, nickel-plated cylinder rod - all of which work in unison with your factory recoil spring to cushion carrier impact, lessen felt recoil, and minimize the overall beating your rifle and optics endure when shooting. But, that's not all - you get better accuracy and significantly reduced muzzle rise to maintain efficient target acquisition during rapid fire maneuvers. These benefits are amplified with short-barreled carbines. For rate of fire reduction, nothing works better - AR-RESTOR has been tested by the U.S. Army and proven to drop cyclic rates from 900 rounds per minute to 650 - 700! AR-15 Collapsible fits rifles with M4-type collapsible buttstocks. AR-15 Fixed fits rifles with fixed A1/A2-type stocks. AR-.308 Standard Collapsible fits collapsible stock ArmaLite® AR-10® and other AR-style .308 rifles with 3¼" recoil buffers. AR-.308 Shorty Collapsible fits collapsible stock DPMS Panther LR-308 carbines and other AR-style .308 rifles with 2½" recoil buffers.
---
Extra-heavy to soften felt recoil on semi-auto and full-auto guns; added mass reduces cyclic rate during full-auto fire. Provides smoother function for faster follow-up shots to help improve on-target accuracy. Stops bolt bounce on full-auto CAR-15's to increase feeding and extraction reliability. Drop-in installation, uses standard recoil spring. Fits AR-15/CAR-15 with collapsible stock only.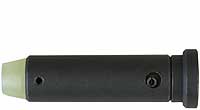 ---
Originally designed for military use, this recoil buffer replaces the standard recoil spring buffer found in AR15 rifles. This buffer is air-charged and tested to extremes without failure. Because it's air-charged there are no messy leaks commonly found in similar hydraulic products which have historically failed over time. Widely used for CMP and hi-power rifles because the AC4 reduces felt recoil and muzzle climb providing reliability during matches.
Air charged, pneumatic buffer replaces the factory recoil spring buffer in AR-15/M16 rifles to considerably lessen felt recoil and provide fast target re-acquisition in all types of shooting and tactical situations. Made to fit non-adjustable, A2-style stocks, these buffers help compensate for muzzle rise and improve extraction, ejection, and round cycling. Available in Non-Adjustable.
Note: The AC4 will NOT function in AR-15 rifles or carbines with collapsible stocks. The AC4 will only function in A2 buttstocks and buttstocks with full length extension tubes

---
Stops Annoying Buffer Noise During Recoil - Low-friction Delrin disk fits on the end of the buffer spring, opposite the buffer, and stops the annoying "twang" of the buffer hitting the rear of the receiver extension during recoil. Quick, easy installation, with no permanent alterations to gun. Simply remove buffer and spring, insert Twang Buster, then reinstall buffer and spring.

---
Sponsors
---
---