AR-15 Adjustable Buttstock:
Visit the Fixed and AWB Compliant Stock Page Here
---
AR-15 Adjustable Stock's
Magpul "Precision Rifle Sniper" PRS AR15/M16 Stock
The Magpul PRS (Precision Rifle / Sniper - AR15/M16 Model) is a drop-in, precision-adjustable butt stock for rifles with A1 / A2 fixed stocks. Designed to offer the fine-tuned, customized feel of a precision target stock, the PRST is adjustable for both cheek riser height and length-of-pull without sacrificing the durability necessary to withstand the operational environment. Compared to the A2 stock, the PRST can shorten the LOP by 0.25" or extend it by 0.75". Machined aluminum adjustment knobs feature positive-locking click detents to maintain position under recoil and allows easy, tool-less adjustments by simply rotating the knobs. Machined aluminum butt-plate and alloy steel adjustment shaft provide stability and strength to withstand severe impact conditions. Rubber butt-pad offers positive shoulder purchase to prevent slippage for optimal accuracy even with body armor or modular gear. Bottom Picatinny-type rail allows for monopod use, additional sling mounts or storage. Stock includes all mounting hardware for A1 / A2 type rifles with fixed stock. Click here for a larger image.
---
The Magpul UBR (Utility / Battle Rifle), U.S. Patent 6651371, is a fully-featured, adjustable butt stock for the AR15 / M16. Unlike typical collapsing stocks, this modular design offers the stability of a fixed stock with consistent cheek weld in any position. Seven-position length-of-pull (LOP) adjustment is quickly executed with gross motor movement while the integral preset system allows direct access to a preferred position. A robust lock mechanism and multi-shell construction increase durability under severe impact conditions experienced during malfunction clearing and accommodates large-bore AR calibers. The UBRT also provides extra counterbalance weight to improve handling on full-length rifles and weapons with muzzle-heavy accessories or grenade launchers. Optional components such as dual-side sling mounts and metal strike plate allow the UBRT to adapt to the mission at hand. Note: The UBRT includes the necessary Entry Receiver Extension tube and all mounting hardware. An M4 Carbine Buffer and Spring are required for use with the UBRT and are not included.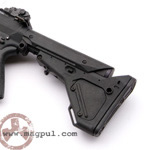 ---
The VLTOR EMOD is based on the same rugged and practical design as the original Vltor Modstock - with specific features designed from lessons taken from the modern battlefield. The EMOD is about one inch longer than the original Modstock and with the rubber butt plate installed, is about a quarter of an inch longer than the CRANE SCB. The increased length of the EMOD is a major benefit when used on scoped rifles (SPR/DMR), as it increases the available comb for any given length of pull. The buttplate of the EMOD is slightly wider and longer at the toe than the regular M4 stock with a noticeable negative pitch, making transitions from the ready feel much more natural. The EMOD was given enough weight to help balance out the normally muzzle heavy feel associated with negative pitch buttstock's. The toe of the buttplate is rolled under; giving the EMOD a superior feel when the weapon is held in the "out of pocket" heads up hold. The buttplate is covered with a removable rubber buttpad that is molded over a metal strike plate. The shape of the buttplate and the rubber buttpad give a solid stock purchase in all situations.
The EMOD features more storage in the removable, waterproof side compartments; the EMOD holds up to four CR123 or three AA batteries. There is also an additional weather proof compartment in the clubfoot area of the stock, this compartment can be accessed quickly and holds two AA batteries or other small parts.
The VLTOR Modstock Clubfoot rugged, tactical stock system contains all the parts you need to replace your AR-15/M16 or existing collapsible stock with an advanced, five-position, carbine stock. Unique, clubfoot design provides better overall control and a firm, tight grip in all combat situations. Three sling loops are molded directly into the stock and are wide enough for use with military-style, nylon web slings. One sling locking sleeve is also built-in to accept a quick-detach, push-button sling swivel. Two battery compartments with waterproof caps hold up to four, spare, 3-volt lithium batteries. Kit includes Clubfoot Modstock, buffer, buffer spring, endplate, locking nut, and two, long accessory storage compartments with caps.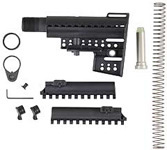 ---
CAA fulfills the tactical marksman's requirements of a precision adjustable stock that delivers rapid target acquisition, minimal shooter fatigue during extended target observation, and maximum precision in shot placement. Push-button release, 10-position length adjustment system retains the rifle's fixed A2 buffer tube and allows a 4" range of adjustment to fit any size shooter/body armor combination. Selected position can then be locked with an Allen head screw for extra security. Wide cheek rest is continuously adjustable up to 1-1/8" for height to ensure a solid cheekweld, and offers 13 positions for eye relief to suit a wide range of optics. Deeply curved, vertically adjustable rubber buttpad seats securely in shoulder pocket without slippage, even during sustained shooting. Includes two ambidextrous attachment points for quick-release, push-button sling swivels. Injection molded polymer construction provides optimal combination of light weight and impact resistance, with molded in reinforcements at stress points for extra strength.
---
The Adaptable Carbine/Storage stock (ACS) features an integrated storage compartment located at its tail for spare parts and other gear, dual water-tight battery storage tubes on either side, and a replaceable 0.30" rubber butt pad that provides an anti-slip surface and added protection from impact damage. Also features the unique cam-lock design pioneered by Magpul's CTR stock, enhancing stability and accuracy potential by anchoring the stock tightly to the buffer tube with minimal wobble. A sloping cheek weld surface and shielded release latch further contribute to the stock's ergonomic, user-friendly design. Compatible with the ASAP and other receiver mounted sling adapters, with provisions for adding push button QD sling mount sockets (not included) for right or left handed sling positioning.
Base Stock Weight: 0.86 lb
Base Stock Length: 7.93 in
Length of Pull (LOP) Adjustment Range: 3.3 in
LOP Fully Collapsed: 11.45 in
LOP Fully Extended: 14.75 in
I put a Magpul ACS on my Colt Sporter. It is easily my favorite collapsible AR-15 stock. It's light, strong and significantly improves the gun handling and target aquisition. Replacing my factory A2 stock with the Magpul ACS resulted in slighly over a pound in weight savings on the Colt Sporter.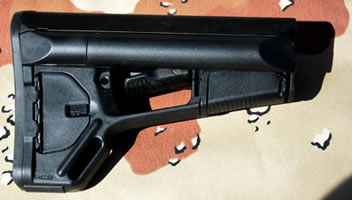 ---
LMT SOPMOD AR-15 Buttstock
Insert Content Here
---

---