AR-15 BOLT CARRIER GROUPS:
---
I believe these are manufactured by Young Manufacturing
Machined to National Match specifications with additional surface area that improves carrier/receiver alignment for smoother operation, more consistent bolt lockup. Features a hard chromed and fluted exterior surface that keeps more lubrication around the carrier to reduce wear and friction. Machined hammer ramp prevents damage to titanium firing pins. 1 ounce additional weight compared to standard carriers gives reliable cycling and feeding with heavy competition loads. Hard chromed inside surfaces provide su-perior gas seal. Drop-in, requires no additional fitting. Slickside manufactured without ejection port cover release or forward assist notches; use only in receivers with no ejection port dustcover or forward assist.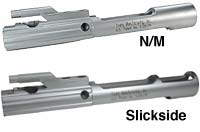 ---
Complete, .223/5.56mm AR-15 bolt and carrier assembly comes with all the parts, fully assembled, and ready to go. Drop it in your AR, check headspace, and you're ready to shoot. Precision-machined in Les Baer's state-of-the-art manufacturing facility from durable, high-grade 8620 nickel-chromium-molybdenum alloy steel billet. Mil-spec dimensions ensure proper fit and function in a wide variety of OEM and aftermarket upper receivers. All components, including bolt and gas key, have a uniform matte black Parkerized finish for extra strength and corrosion resistance. Interiors of the carrier and carrier key are hard-chromed for additional durability and to aid in clockwork reliability. Carrier and stripped bolt also available separately. Bolt – Stripped bolt allows you to build up a custom, high-performance bolt to suit your exact needs by installing the firing pin, extractor, ejector, gas rings, pins, and springs of your choice. Carrier – Comes with gas key installed and staked.

---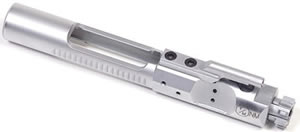 ---
Bolt and carrier assemblies provide smooth, efficient cycling and improved reliability in any AR-15 application. Precision machined from the highest quality ordnance-grade steels to current military-or higher-tolerances, then hardened and magnetic particle inspected to ensure there are no microscopic cracks or flaws that could lead to premature failure. Bolt made from high-strength Carpenter 158 steel alloy is heat-treated for exceptional surface hardness to handle the battering of thousands of cycles. Includes extractor, gas rings, ejector, pins, and springs. Carrier of 8620 steel is chrome lined to ensure smooth bolt function and superb wear resistance for years of reliable service. Comes with chrome-lined carrier key installed.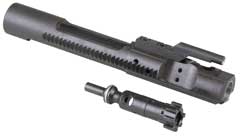 ---
Drop-in bolt and carrier group has a self-lubricating surface that eliminates the need to apply oil or grease that can attract dirt, dust, unburned powder, and carbon and lead to cycling failures. Proprietary EXO treatment produces an exceptionally hard surface that's 40% more wear resistant than chrome plating, with an ultra-low friction coefficient. Surface is actually harder than the substrate underneath and will not peel, flake, gall, or rub off. EXO-treated bolt/carrier groups have been tested to function reliably without additional lubrication up to 50,000 rounds. Reduced friction also means less heat generated by metal-on-metal contact, so the gun runs cooler and parts last longer. Easy to clean, too—fouling brushes right off. Before treatment, parts are shot peened for surface uniformity and magnetic particle inspected to make sure there are no hidden flaws. Gas key is hardened to USGI specs, chrome lined to resist erosion, and comes already staked to the carrier. Complete Bolt/Carrier Group comes fully assembled and ready to drop into any mil-spec AR-15 upper receiver. Includes bolt, bolt carrier, hammer, firing pin, extractor, cam pin, and gas key. Every kit is test fired for proper function before leaving the factory. Separately available Carrier comes with gas key installed and staked. Bolt includes extractor, ejector, and gas rings installed. Add the firing pin of your choice.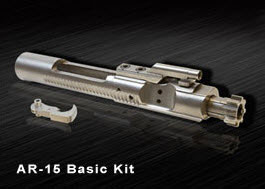 ---
Complete, drop-in carrier/bolt assembly is ramped on the bottom to provide clearance for a factory .223/5.56mm hammer in your 9mm conversion. Eliminates the need to install a dedicated 9mm hammer, so the original fire control system stays intact for easier conversion back to original caliber. Precision machined from high-grade ordnance steel, the one-piece design combines bolt and carrier as a single unit to provide outstanding strength, durability, and reliability. Includes a staked-on carrier key.
SPECS: Steel, black oxide finish. Fits rifles and carbines with Rock River Arms and Colt-style 9mm blow back system.

---
The Complete Bolt Carrier Group Assembly by Daniel Defense features a shot peened bolt with extractor booster. It is HP and MPI tested, chrome lined, and has a properly staked gas key.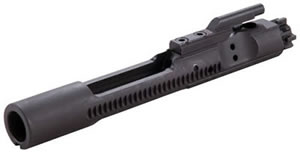 ---
I ha vent seen these DPMS Bolt Carriers available for purchase in quite some time. Steel bolt and bolt carrier combos are either titanium nitride (TiN) coated or hard-chrome plated for natural lubricity, positive cycling, and less wear. Both finishes make cleaning extremely easy. Machined to military specs to ensure correct fit and functioning. These parts are function tested at the factory prior to packaging and may exhibit some light fouling.

Click the picture for more information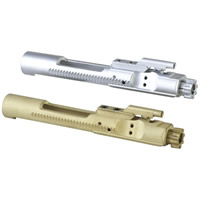 ---
Bolt Carrier Sources
---