AR-15 Charging Handles:
---
Fully ambidextrous charging handle lets the operator charge the weapon from any position for a critical tactical advantage that can make the difference between winning or losing in competition or combat. Helps you maintain peak readiness, clear jams quickly, and operate the handle even if the strong hand is incapacitated. The standard factory handle requires two separate motions: releasing the latch on the left side of the hand grip, then pulling back on the grip to retract the bolt. The Advanced Combat Latching Mechanism (ALCMT) requires only a single, intuitive, continuous backward pull-easier to perform under stress. Simply grasp the handle from either side with either hand, and as you pull back in one smooth motion, a patented camming mechanism automatically releases the retaining latch from the upper receiver. Continue pulling to retract the bolt; when you release the handle and the bolt closes, the ALCM re-latches securely. Aggressive grasping grooves help your fingers locate the handle quickly and ensure that they won't slip off even when wet or cold. Manual override button lets you operate the latch when the bolt carrier is locked open or removed. Precision machined from premium-grade aluminum billet with MIL-A-8625 Type III Class 2 hardcoat anodized finish for extra strength and resistance to surface wear. Long-wearing internal components of ordnance-grade steel, and PTFE inserts to ensure smooth operation without lubrication-perfect for dusty operating environments.

---
Extra-thick handle includes a gas defection groove to protect shooters face and eyes from oil and gas blowback. Extended finger latches offer easier loading, faster jam clearing; improves speed when performing immediate action drills. Flat Latch has a deep hook contour that gives your finger better purchase to quickly retract the bolt while wearing gloves. Military Latch has smooth latch face with round edges that is easy on your fingers, less painful during lengthy firing sessions.
---
When you have to cycle the charging handle quickly, you need to be able to find it easily. 5/8" square steel pad extends 13/16" from the charging handle, providing an easy-to-find surface that helps you cycle the bolt quickly when seconds count. Replaces existing charging handle with no gunsmithing and no modifications to the rifle.
I purchased this unit as it was mid priced and I hadn't seen this particular model previously.
---
Machined steel provides the strength to withstand the rigorous demands of competition and tactical use. Won't bend or break during rapid loading drills or left-hand slap, stoppage clearing. Complete and fully assembled with latch, ready to drop into your rifle. Typical charging handles are aluminum.

---
This is similar to the charging handle shipped with most AR-15's. Its manufactured from aluminum. This is about the least expensive charging handle available.

---
Heavy-duty charging handle is engineered for smooth, reliable, fast operation with the support hand without breaking under the stress of hard use. The innovative, oversized latch is designed to distribute pull force evenly on the handle to prevent the critical roll pin from breaking and leaving the latch inoperable. Machined from 7075 T6 billet aluminum with extra metal providing reinforcement in critical locations. Available with Medium length extended latch or Large latch that an additional ¼" for an even larger grasping area.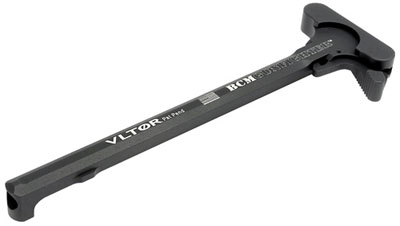 ---
The MechArmor TacOps-1 Ambidextrous tactical charging handle can be operated with minimal body movement in confined spaces, under concealment, or even in the prone position. Lets you to maintain constant visual contact with the target during magazine changes, jam clearances, and other high-stress CQB situations. Extended, ergonomically shaped grasping surface provides an extra-secure grasp and extra leverage for normal charging operation, yet won't interfere with the forward assist or oversized optics that extend behind the rear of the receiver. Dual-mode latch mechanism has a second release button in the center rear of the handle for easy handle operation with the support hand, further increasing your operational versatility. The heavy-duty latch roll pin resists breakage under hard use, and the 7-pound stainless steel latch spring ensures the latch locks down tight—and stays locked—until you release it.
SPECS: 7075 T6 aluminum, hardcoat anodized, Teflon coated, black. .223/5.56 fits AR-15/M16/M4. .308 fits AR-Style .308 rifles
Update October 5, 2011 - I have been using the TacOps1 for several months. I can say without hesitation this is the best charging handle on the market. It's not cheap but if your life is on the line accept no substitutes.
---
Brownells PARA-TROOPER FOLDING TACTICAL CHARGING HANDLE has an oversized lever on the left side that folds against the receiver to present a slim, no-snag profile during carry or storage. Opens instantly to give you a larger grasping surface than the standard-issue handle, so you can find it and cycle it faster. Deeply serrated front face ensures non-slip hand contact for positive operation on the first attempt in all conditions. Lever angles down slightly when retracted, so it won't interfere with a scope or sight mounted on the receiver rail. Drop-in ready for a mil-spec AR-15/M16 upper receiver; no gunsmithing required. Machined from billet 7075 T6 aluminum—the same material USGI receivers are made from—for superb strength and reliability. Hardcoat anodized to resist corrosion and surface wear; matte black finish matches

---