AR-15 Magazine:
---
The Most Popular ar 15 accessory the Magazine
There's several varieties of magazines available for the AR-15. Steel, Aluminum and Polymer to name a few. Unfortunately they are all not created equal regardless of what materials they are manufactured from. Stick with a brand that's known to be reliable. Good quality magazines don't have to cost allot. C Products ultra reliable 30 round Teflon coated stainless steel magazines are a bargain at $12.95. If you want to spend allot I have heard that the HK mags are the absolute best but carry a $50 price tag. If you need magazines that can be run over by vehicles Magpul and Tapco have addressed those needs very well.
Note: In a tough political climate their will be companies producing inferior magazines to make a fast buck. If a magazine is not 100% reliable its of no value. Destroy it and throw it out, don't sell it to some unsuspecting person. It can very well cost them their life in a time of need.
Brownells has 3 pages of AR-15 Magazines if you want to see more then I have listed here.
---
Weighing only slightly more than their standard, Mil-Spec aluminum counterparts, these magazines feature a stronger body composed of stainless steel for a long service life in demanding conditions. Internal components include an anti-tilt follower and chrome silicon spring. Made to US military specifications and legal for use in Service Rifle matches.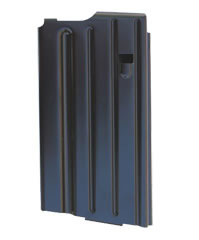 ---
Exceptionally rugged, combat- and competition-ready magazine functions flawlessly, even when left fully loaded for extended periods. Corrosion-proof, self-lubricating one-piece body of fiber-reinforced, molded polymer has no spot welds or joints to impair the follower, and the constant internal curve ensures smooth, unobstructed movement of the round stack. Anti-tilt follower stabilizes the stack to help prevent nose-diving and bolt-over-head failures. Heat-treated, stainless steel spring is stress-relieved for optimal performance. Included quick-release magazine cover seals out dirt and alleviates feed lip deformation caused by pressure from a full ammo stack during long-term storage. Withstands the heat from prolonged full-auto fire and is not harmed by most bore cleaners and solvents. Exterior ribbing provides added gripping surface; magazine catch notch, rather than a traditional hole, keeps dirt and debris out. Easy-to-grasp ledge on floorplate aids in extracting magazine from pouches; floorplate removes easily for cleaning. Curved-body 30-Round model is also available in MagLevel configuration with windows on both sides of the magazine and a bright, orange indicator to display ammo level. Compact, straight-body 20-Round model makes a tactical rifle easier to store and retrieve from a vehicle, and provides a stable rest for target shooting. All models available in Black, Flat Dark Earth, O.D. Green, and Foliage Green.
Click the images below to view them full size
---
A basic problem for plastic magazines is that they have to have a constant curved interior to be molded in one piece. There is no other way. But the magazine well of the M16/AR-15 weapon system is straight. So much compromise has to be reached from a design standpoint to make the two work together. So side effects of magazines not dropping free, are often seen. The optimum solution would be a straight upper section to properly present cartridges through the magazine well, and a constant-radius lower section to accommodate remaining ammunition. However, this design has been impossible to produce in polymer… until now..
The patent pending two-piece modular construction allows us to create the ultimate magazine for many reasons. In addition to the proper magazine form, we are able to achieve maximum strength and integrity when the components are molded. Precision molding is achieved much easier on two small parts versus one large one. We can also mix materials, impossible with conventional plastic magazines. We can offer transparent lower/high tensile strength upper sectioned magazines that avoid the brittle feed lip issue of all-transparent material construction. Modular construction makes perfect sense for the unprecedented strength- we eliminated the removable floor plate, so the magazine becomes a five-sided box. ARC Mag survives the impact that crushes metal magazines.
ARC Mag takes full advantage of the latest polymers available from the aerospace industry- materials impervious to the effects of solvents & lubricants. After molding, we permanently bond the two sections together with advanced adhesives during manufacturing, so no disassembly is possible, or required. ARC Mag has a unique low-friction semi-floating follower that is slotted to allow for easy magazine cleaning. Just dunk the ARC Mag in hot soapy water, rinse and invert to drain. That's hassle-free maintenance. ARC Mag also features a premium chromium-silicon spring that is heat treated, stress relieved and moly coated. Life expectancy for this spring is 100,000+ cycles.
The aggressive ridges front and rear. They allow a positive purchase when seating the ARC Mag. The deep waffle pattern on the magazine's sides assist in rapid extraction from mag pouches. Every surface on the ARC Mag was given careful consideration to help out the operator.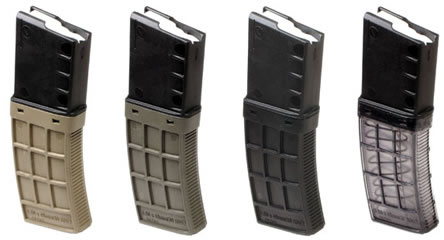 ---
Newly designed, 30-round magazine features a strong one-piece steel body built to handle the roughest combat and tactical operations. Precision manufactured to ISO 9001:2000 quality management standards to exceed DoD specs for USGI magazines. Advanced features include a tilt-resistant steel follower and stainless steel spring that ensure even pressure on the round stack for smooth, jam-free feeding. Two-part floorplate with integral lanyard loop removes easily without tools for cleaning and maintenance; floorplate and follower are designed so they can't be reinstalled the wrong way. Fits minimum-dimension magwells and guaranteed to drop free from mil-spec magwells under its own weight, even when empty. Fits any mag pouch designed to hold standard USGI-spec magazines. Body is precision formed on an 18-stage progressive die system from a single piece of .021" thick 1050 sheet steel and robotically MIG welded for strength and dimensional consistency. Crush resistant to 1,000 lbs. (500 lbs. side load) fully loaded, and impact tested to withstand dropping 1.5m onto a flat concrete surface. Function tested to ensure operation at temperatures from –67°F to +329°F. Body is nitride heat-treated to Rc 60 surface hardness, then pickled to remove the oxide layer before application of the heavy duty manganese phosphate Parkerized finish (MIL-DTL-16232G Type M) for maximum abrasion resistance. After nitride hardening, follower, floorplate, and retainer receive a dry-lube-impregnated powder coating to aid in smooth follower movement. Both finishes resist continuous salt fog exposure for 96 hours without developing corrosion, and also resist bore cleaners, solvents, oils, gasoline, diesel fuel, hydraulic fluid, insect repellents (including DEET), and other harsh chemicals likely to be encountered in a military environment.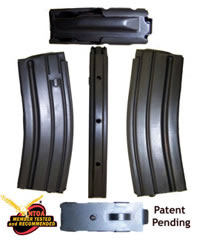 ---
Full-capacity, 30-round magazine features a translucent polymer body with molded-in 20- and 30-round-count markers to give the operator instant visual feedback on ammo status. Makes pre- and post-combat ammo checks easy; helps improve training safety and range efficiency. Tough, lightweight molded polymer stands up to rough handling and extreme conditions of tactical operations, including heat and impact of sustained full-auto fire. Tested to withstand temperature extremes of –50° F to +180° F and 5-foot drop, fully loaded, to hard concrete surface without impairment of function. Impervious to cleaning solvents, oils, and many other chemicals. Non-reflective exterior has molded-in ridges that enhance structural strength and provide a solid grasping surface for inserting and removing from weapon. Drops free from mil-spec magwells, and can be inserted into weapon with bolt closed and a full 30 rounds loaded. Fits mag pouches designed for standard USGI-spec magazines. Constant-radius curve of the body helps ensure smooth, snag-free follower/spring operation and consistent movement of the round stack for reliable feeding. Feed lips are hardened steel inserts with a corrosion-resistant PTFE coating that also promotes smooth ammo movement. Lips will not deform when the magazine is stored fully loaded over a long period of time, even in an extremely hot environment like a locked vehicle. Hard polymer base plate has a rubberized exterior to provide a positive gripping surface for extracting mag from tight-fitting pouches and secure seating in weapon. Prevents damage when mag is ejected on a hard surface, and removes easily for disassembly and cleaning.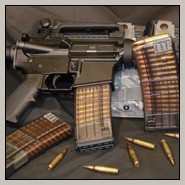 ---
HK AR-15 Magazine 251770
A weapon is only as reliable as its magazine. Designed by HK to provide an uncompromising reliable feeding source for existing M16 type systems and SA80, the HK High Reliability Magazine has been combat proven by various U.S. Special Operations and foreign military units worldwide. Its superiority has been evidenced throughout extensive testing in arctic, desert, jungle, and maritime environments. It features a well-executed design, select materials, special anti-friction surface finish, advanced spring material, attention to production tolerances, and a heat-treated steel magazine housing and follower. For use in extreme environments HK now offers a special Maritime coating which easily surpasses the US MIL-STD-810 E salt fog test. During this test, the HK High Reliability Magazines were exposed to a 100 hour salt fog and then stored three days at ambient temperature. After this test procedure each magazine was fully loaded with rounds and fired twice with no problems experienced. In U.S. military testing, the HK magazine improved feeding reliability of the system by 30-50% overall. HK Number: 233614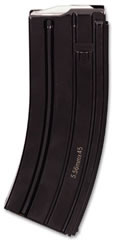 ---
Super-capacity, dual drum magazine allows you to spend more time shooting and less time reloading. 100-round capacity is great for extended shooting sessions with inexpensive surplus ammunition. Even weight distribution ensures a well-balanced weapon that's not cumbersome or awkward to shoot. Included tool provides easy loading, simply push five rounds at a time into the interlinking straight clip to automatically double stack and alternately load both drums. Polymer composite body is available in solid Black, or black with a Clear drum face to allow visual check of remaining ammo. Steel hardware and aluminum feed rails provide years of reliable service. Includes two tubes of graphite lubricant for optimal feeding, plus a snap-on, synthetic cover to keep dirt from entering the follower end of the magazine. Double-stitched, nylon carry case attaches to your web belt and includes individual compartments for the magazine, loading tool, and graphite tubes.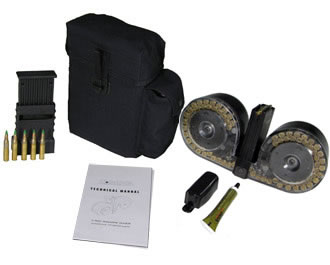 ---
The MWG 90 Rounder high capacity magazine for the AR-15/M16 provides you with the finest in state-of-the-art high capacity magazine design. The 90 Rounder's innovative snail-drum design and advanced space-age materials are combined to create a very light, completely reliable, low maintenance, high capacity magazine that will withstand a level of heavy field use that would destroy a metal magazine, while weighing 33% less.
Precision built, ultra-high capacity, drum-style magazine allows extended shooting strings and plenty of shooting fun with your favorite AR-15 or M16 rifle. Made from extra-strong polycarbonate resin with a clear back cover so you can see at a glance the remaining rounds. Holds a maximum of 90 rounds of .223 Rem./5.56 NATO ammunition and is guaranteed not to jam or malfunction. Offset design keeps the weight of all rounds directly below the magazine well, so the balance point of your rifle remains unchanged. Very easy to load, includes a 10-round loading chute and stripper clips to help speed reloads. There is an optional speed loader available here.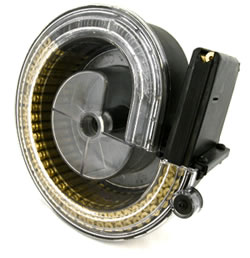 Check out the review of the MGW 90 round magazine at Defense Review.
---
AR-15/M16 magazines with heavy-duty springs for stable loading, reliable following, and a long life. Formed, high-lubricity, black-polymer follower helps improve feeding. 5- or 9-round, AR-15/M16 magazine with an ergonomically contoured base pad that removes quickly and easily for fast cleaning and maintenance. 7075 aluminum, hardened to Mil Spec T6, keeps feed lips strong and effective for a long time.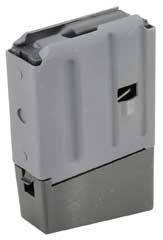 ---
New from CMMG is the 28-round black Teflon magazine with a stainless steel anti-tilt follower and braided wire spring. No other magazine offers greater performance under extreme conditions. New stainless steel ant-tilt follower features superb stability, minimal drag and unmatched durability. Nano-ceramic plated braided wire spring protects 400+ hours against salt sea spray. Multi-strand construction eliminates the magazine from ever taking a set. No single strand chrome silicon spring compares! MSRP $29.95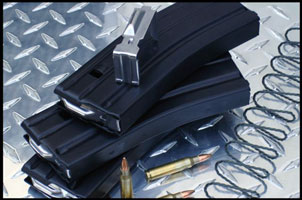 ---
Armatac Industries, a Virginia-based magazine manufacturing company, is the first to develop a reliable and efficient 150 round magazine for the .223/5.56mm rifle.
The CL-MAG is Designed to fit NATO standard (STANAG-4179) rifles and quickly converts a rifleman with a standard M4 into automatic support personnel. The 150 rd magazines have been routinely emptied through the standard AR-15 setup without weapon failure. The flexibility of such force multiplication makes the CL-MAG™ the most dominant accessory for the AR/M4/M16 family of weapons.
The CL-MAG™ was designed to have the lowest operating drag due to friction. The ammunition is contained individually inside the drums on sprockets, each cartridge gets its own separate space, the ammunition is picked off the sprockets when they spin, not a typical high friction convergence found on cheaper designs. This is why our drums do not require graphite lubrication to work. The drum shell is designed to guide the cartridges with ridges and this also allows for the drum shell case to accumulate chamber residue from extended high volume usage.
WEIGHT– 3.95 lbs. dry: a fully loaded 150 round CL-MAG and an M4 are lighter than an unloaded M249.
DESIGN– Ammunition is contained individually inside the drum on sprockets, affording each cartridge its own separate space. Individual rounds are picked off the sprockets when they spin, unlike other dual drum designs with high friction convergence.
To be used in conjunction with 30-round magazine as a force multiplier.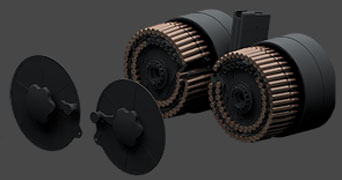 The CL-MAG external shell is constructed of durable aircraft quality aluminum. Internal components are comprised of lightweight polymers. Surface lubrication and durability is achieved with a hard anodized finish. These factors contribute to give the CL-MAG outstanding performance never seen before in high capacity magazine devices.
NO LUBRICATION REQUIRED
When installed in the rifle, the CL-MAG is the exact vertical height of a standard M-16/AR-15 30-round magazine.
The CL-MAG can replace some of the M249 belt-fed weapons with a lighter, high-volume firing automatic rifle that is a better logistical fit within military units.
Patents Pending, MSRP $997.00
For more information, visit www.armatac.com.
---
Collecting input from military, law enforcement, and civilian shooters, TAPCO has designed a magazine that can be depended on during a trip to the firing range or deployment overseas. Weapons are only as good as the feeding device used with them and you can count on TAPCO AR-15 MAGAZINES to reliably function in any operational environment. Aggressive horizontal ridges provide increased gripping surface for insertion and extraction of the magazine in wet or muddy conditions. Molded of reinforced composite, our magazine has a 30 round capacity. It is made in the U.S.A. and is backed by a lifetime warranty. Fits the AR15, M4, and M16.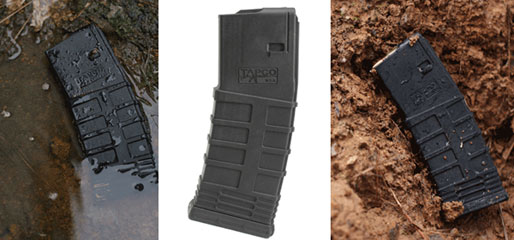 ---
---