AR15 Pins & Springs:

---
Yankee Hill Machine EZ Pull Takedown Pin Set YHM-7284
April 28, 2009

These takedown pins have over sized heads to make separating the upper and lower receiver faster and easier. Perfect for the shooting enthusiast with a variety of top ends and a single lower receiver. Heat treated and plated to Mil. Specs.
---

AR15 Lower Parts Kits (LPK)
April 28,2009

Lower Parts Kits are available in a few different configurations. Complete kits will contain every part necessary to complete a stripped receiver. Its a great idea to keep an LPK around for spare parts. Now if your building a new AR like we are in our "Kita" build and you know you aren't going to use several of the parts and have no need for spares there are LPK variations that do not include things like the trigger group, pistol grip and safety. The money saved by buying the smaller kits can be put towards the parts you want. Alternatively you can hand pick and order each and every part but the LPK's are the most economical choice. Lastly most of these parts are made by the same manufacturer regardless of the supplier and brand you choose.
Below I will include a few links from companies I like that are a great source for these parts. Perform a search for "LPK" or "Lower Parts Kit" Click this link for an image of the individual parts.
---

AR15 Anti-Walk/Non-Rotating Pins
April 28,2009

After extended use of any AR15 the hammer, trigger and sear pins have the distinct possibilty of developing a loose fit in the lower receiver. A few companies have developed improved pins that are either held in place by clips or even better fastened with screws that utilize retainers to keep the pins in place. If you are building a lower reciever you can utilize these products to prevent the wear from occuring in the first place. If your lower is already showing signs of pin wear there are oversized pins available to you as well.
KNS Non-Rotating AR15/M16 Pin Set
CNC-machined, hammer and trigger pin sets are centerless ground for uniformity and heat treated for durability. Available in both Non-Rotating and Original-Equipment-Style; Non-Rotating comes in Standard .154", Oversized .155", and .170" for larger receivers. Original-Equipment-Style only available in Oversized .155". Oversized Pins helps improve accuracy and trigger control by tightening up any trigger slack that may exist in worn or new receivers. Standard-sized pins drop-in and require no modification to the receiver; oversized pins require the use of the 3.95mm Reamer listed below. Redesigned hammer pin and anti-rotation links provide the strongest possible system to eliminate pin rotation, and will withstand the additional force exerted by 9mm conversions and suppressed .223 upper receivers. Helps prevent wear to receiver holes, which is especially important for increasingly-valuable M16 and pre-ban receivers. Notched hammer pin locks into slots in the anti-rotation links; trigger is secured with locking screws, and includes lube ports so adequate lubrication reaches the trigger. Anti-rotation links fit on the outside of the receiver to prevent all movement.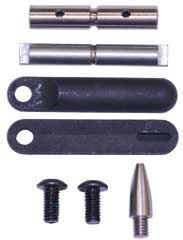 KNS Gen. 2 Mod. 2 Non-Rotating Pin Set
Identical function as the standard sets, but with ultra-low-profile links that protrude even less above the receiver. Available with standard .154" diameter pins, oversized .155" pins, or .170" pins for large-pin receivers; .155" pins require use of the 3.95mm reamer.
KNS AR15/M16 Quick Change Non-Rotating Trigger/Hammer Pins
Must-have for M-16 owners. This simple non-rotating pin set is for shooters who want to quickly change their trigger set-up wihtout the need of any tools, eliminate receiver wear and tighten up trigger wobble and free-play at the same time. (These .1555 pins will not fit Jewell Trigger System.)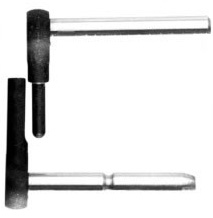 ---