AR-15 Gas Piston Conversion Systems:

---
How does the piston system differ from that of a regular AR15?
I will put it in the simplest of terms. On a typical AR15 when a cartridge is fired gasses travel down the barrel with the bullet. Those gasses are vented from the barrel through the front sight block and back to the rifles chamber via the gas tube under the handguard. The energy of these gasses helps the bolt carrier to travel to the rear cycling the rifle. The problem is these gasses cause carbon fouling in the chamber. These means the rifle must be cleaned and lubricated more frequently then other types of weapons. A gas piston system starts of like a regular AR15 but instead of the gasses returning to the chamber they push a rod (the piston) and spring against the bolt carrier. Gasses are vented outside the rifle resulting in a chamber that can go much longer between cleanings.
I suspect that as this system is improved upon it will become the standard on most AR15 type rifles. Click the images below to see them full size.
---
CMMG Carbine Piston Conversion
K7-PC
CMMG carbine piston conversion replaces front sight base, handguard cap, handguard's and bolt carrier on your stock AR15 style upper. Gunsmithing required, instructions included. Piston systems are cleaner on the operating systems due to hot gasses being diverted at the gas block instead of the upper receiver. Piston is hard chrome plated and is removable from the front of the gas block. Bolt carrier has impingement key built in for maximum strength. For use only on semi automatic firearms with barrels 14.5" or longer.
Drop-in conversion kit contains everything you need to replace the standard gas system on your AR-15 carbine with a reliable, positive cycling direct impingement gas piston system. Updates your AR to the type of operating system used on advanced weapons like the FN SCAR, Heckler & Koch G36, and HK416, as well as the highly reliable, classic FAL and AK-series rifles. Makes your gun run cooler, smoother, and more reliability, with less wear and easier maintenance. Because the gas no longer vents inside the receiver, fouling and carbon buildup are greatly reduced, making maintenance easier with less frequent disassembly of the receiver for cleaning. Less fouling and lower operating temperatures mean substantially reduced wear on bolt, carrier, and receiver interior for fewer malfunctions caused by worn parts. The cushioning effect of the piston reduces felt recoil to help you stay on target for fast, more accurate follow-up shots. "Straight-line" design of the replacement gas block further ensures reliable operation by venting gas pressure directly on the operating rod. Rod transmits the force directly to a lug on the top side of the one-piece bolt carrier redesigned specifically to work with the piston system. Carrier and lug are machined from a solid billet of steel to eliminate breakage that can occur with a standard carrier modified for use with a gas piston system. Requires no permanent alterations to barrel or upper receiver. You can remove the piston system any time and reinstall the original parts.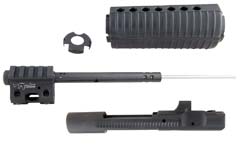 ---
Bushmaster AR-15/M16 Gas Piston Retrofit Kit
Bushmaster's easy-to-install kit lets you convert an AR-15/M4 carbine to a smooth-running short-stroke gas piston operating system for cooler, cleaner, more reliable operation, positive cycling, easy maintenance, and the freedom to fire a wider variety of ammunition. Designed to function in both semi- and full-auto weapons, the kit contains all the parts to convert the standard gas impingement system to the rugged, reliable op system employed so successfully in the Kalashnikov AK series, FAL, HK416, FN SCAR, and other tactical rifles. Eliminates the risk of broken gas rings, sagging gas tubes, and the accelerated wear caused by venting hot gas, debris, and carbon fouling inside the upper receiver. Bushmaster has extensively torture-tested this system, ending with a 10,000-round non-stop endurance test without a single failure. Hot gases are vented under the kit's handguard, away from the operator, so only the energy required to cycle the action is transmitted to the receiver. Stainless steel shielding inside handguard protects your hand, even from the heat buildup of sustained full-auto fire.
Kit includes a high-performance replacement bolt carrier with extra mass, an integral impact lug, and other anti-wear features to protect receiver from the impact of the piston. The lightweight, low-maintenance stainless steel piston is housed in a tubular structure that replaces the existing gas tube and pins directly to your rifle's factory front sight tower-no need to install a new sight system. Installs in any mil-spec, factory upper without permanent modifications; any time you want to return your rifle to its factory gas system, simply swap out the piston system and replace the original parts. Check out the operating manual here.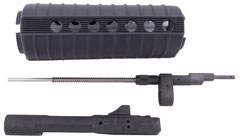 ---
Adams Arms AR-15 FIX Retro-Fit Pistol Driven System
Adams Arms piston driven systems replace the problematic impingement system currently associated with the mil-spec Ar15, m16 style rifles. Our system eliminates hot gasses and carbon from the bolt carrier reducing recoil, heat, fouling, maintenance and increases reliability. What you get! Everything pictured PLUS a modified M4 Style handguard, detailed installation instructions and A Lifetime Warranty. Add an Adams Arms Drop In or Free Float handguard for more custom options.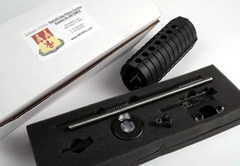 ---
Addax AR15 PWS Gas Piston System
System Features:
Available for Carbine, Mid and Rifle length systems
A dual diameter piston for better alignment and less wear
Carrier key and anti-shear pin machined from hardened tool steel
A mothered operating rod to inhibit flexing or bending
QD disassembly for cleaning
The operating rod is attached to the carrier to minimize carrier deflection and receiver wear.
Adjustable gas system for firing unsuppressed and suppressed
All parts are CNC machined and heat treated; no welded or cast parts are used
Limited Lifetime Guarantee
We recommend the following hand guards / railed forends that will work with the PWS Gas Piston System:
Daniel Defense Lite Rail
Danile Defense M4 Rail
Daniel Defense Omega Rail
VLTOR VIS
LaRue Tactical Handguard
A.R.M.S.® S.I.R.® System
Predator Rail
Troy Free Float MRF
Troy MRF Drop In Rail
The top of the hand guard must not protrude past the gas block. Hand guards that extend past the sides and bottom are acceptable.

---
Brownells AR-15/M16 Gas Piston Conversion Kit
---
ARES GXR-35 Black Lightning Upgrade System
The ARES Defense GXR-35 Black Lightning is the ultimate Performance Upgrade System for MIL-Spec AR-15, M16 and M4 type carbines. Packaged in a simple and complete, "do-it-yourself" retrofit kit, the GXR-35 requires absolutely NO GUNSMITHING and simply replaces your direct-gas tube system in minutes with a robust, self-regulating gas-piston and cylinder assembly. Trusted by expert shooters who put their lives on the line, the ARES Defense GXR-35 will transform your carbine into a cleaner, cooler running and more reliable weapon under adverse conditions, with increased controllability and performance over a broader range of ammunition. Visit www.aresdefense.com for more information or email websales@aresdefense.com. Product is In Stock Now! MSRP $399.95, Special Introductory Price $349.95 offer expires 10/15/2009.
Key Features
"Drop-In" Gas-Piston Retrofit System
Fits MIL-Spec AR15/M16 and M4 Weapons
Proven in a 10,000 Round Torture Test!
Run Cooler, Cleaner and More Reliably
Enhanced Performance & Controllability
Includes Single-Piece, Anti-Tilt™ Bolt Carrier
100% Made In U.S.A. - Patents Pending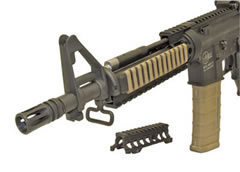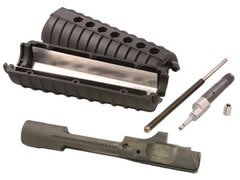 ---
Osprey Defense AR-15 OPS-416 GAS PISTON CONVERSION KIT
Drop-in gas piston conversion kit improves the reliability and function of your AR-15 by eliminating fouling caused by gas venting into receiver. Rifle runs cooler, with less frequent need for cleaning and less wear on carrier and bolt – resulting in longer service life from these critical parts. The unique kidney shape of the piston chamber and piston has extra mass and surface area to evenly spread out gas pressure and reduce felt recoil, allowing you to stay on target for rapid follow-up shots. Installs in minutes on both semi- or full-auto/burst rifles with barrel O.D. of .875" or less. No need to remove gas block/sight tower, and no permanent alterations to barrel or upper receiver – reinstall original parts at any time. Replacement bolt carrier with integral lug is machined from a single piece of steel for a lifetime of use. Models available to fit Carbine and Rifle gas systems.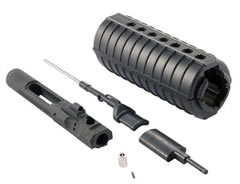 ---
Beaver Creek Armory Gas Piston Conversion Kit
Gas piston conversion kit uses long-stroke, low-pressure piston design that creates less shock force on the bolt for less wear on parts, and reliably-fed rounds. Causes less carbon build-up on bolt, carrier, and upper receiver than original gas impingement system, further reducing wear and shortening cleanup time. Easily installs on AR-15/M16 rifles with carbine-length gas systems using the existing A2 sight tower/gas block or an aftermarket steel gas block. Requires no permanent alterations to barrel or upper receiver. Included shims allow installation on .640", .850", or .875" O.D. barrels. Piston spring is rated for 1,000,000 compression cycles. Complete kit includes a dedicated, one-piece bolt carrier specifically designed for gas piston operation. Carrier Lug kit lets you retain your rifle's factory carrier by replacing the gas key with a lug for piston operation. Dedicated, one-piece Carrier also available separately.
SPECS: Piston, Cylinder, Bolt Carrier Lug – S-7 steel, nickel finish. Cylinder Block – 4140 steel, nickel finish. Gas Port Insert – Stainless Steel, natural finish. Spring – Steel. Handguard – Reinforced polymer composite, black. Fits rifles with carbine-length gas system and .640", .850", or .875" O.D. barrel, measured 1½" behind the sight post. Instructions included.

---
AR-15/M16 Gas Piston Cleaning
---