AR15 Quick Change Barrel Systems:

---
Quick Change Barrels


Sure you can have multiple upper receivers to go with one AR15 lower receiver but didn't you ever wish you could quickly and painlessly just swap barrels? Well guess what now you can with the products listed on this page. If any visitors here have any experience with these products I would like to hear about it and include it here.


---

M&A Parts Quick Change Barrel Retrofit Kit


This is a very clever and inexpensive system, about $50. The heart of this system is an ingenious two piece barrel nut that replaces the existing barrel nut. This setup turns the mounting system into a male/female compression set up. Once the outer nut is correctly aligned with the upper receiver its simply a matter of removing the inner nut to replace the barrel. The gas block will need to be removed to allow for installation of the lock nut. Be sure to get a lock nut for every barrel you want to swap.
Watch the video here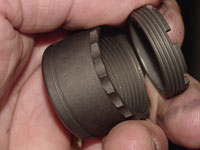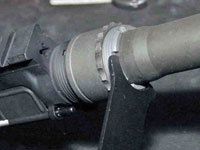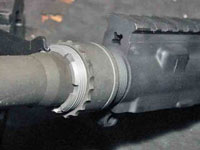 Heres a step by step install from the author of the video above.

---
MGI Quick Change Barrel (QCB) Upper Receiver
This new upper receiver is completely compatible with your AR15 (small front pin) lower receiver and allows you to change barrels in just seconds. This makes it possible for the system to be extremely compact and concealable, as well as giving the operator the option of having multiple barrels for multiple functions.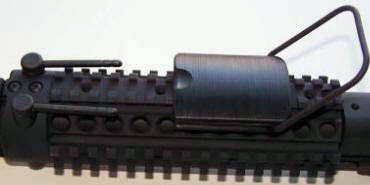 The best part of our QCB Upper Receiver is that it utilizes standard AR15 barrels! Take a close look at the photos and you will see that the barrel is a standard AR15 barrel with the Delta Ring, barrel nut, sling swivel and front hand guard keeper removed. The QCB also features 4 full length picatinny / MIL-STD-1913 style rails that are actually machined from the same billet as is the hand guard itself. This means that there are no screws to loosen or welds to break.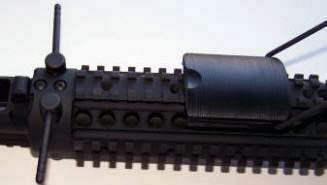 No longer are the locking arms exposed. The latest version of the QCB (the QCB-C) has a slide cover retention system, hard coat anodizing, reversible locking cams, and 4 full length mounting rails. To install your barrel in our QCB Upper Receiver, all you do is lift up on the safety locking bale, pull or push the slide cover forward until the locking arms are exposed, swing the locking arms out to a 90 degree angle, insert your barrel, close the locking arms and secure in place with the slider retention system. Your barrel is quickly secure and ready to go to the range.

Each MGI QCB Upper Receiver comes standard in a flat-top configuration with MIL-STD-1913 rail interface. The rail is marked for easy removal and return of optics or accessories. The special hand guard is equipped with a 6" rail interface on each side and a 2" rail interface on the bottom. The entire unit is only 15" in length.

A nice feature of this system is that the AR15 can be broken down into sections requiring a storage or transport case not traditionally used for a rifle.
Click here for more information. Download the instruction sheet here.
---
---