AR-15 Rifle Scopes:

---
AR-15 Scopes
AR-15 shooters typically look for scopes of a tactical nature. These scopes will often have exposed turrets for easy windage and elevation adjustments. Another desired feature is a bullet drop compensator calibrated for the 5.56 Nato round and occasionally 7.62 Nato for AR-10's. A matte or camo finish is also desirable. These scopes will be fixed magnification, low magnification variable and high magnification just like hunting scopes. Common magnifications will be 3x or 4x fixed, 1x-4x variable, 4x-14x variable. Long range target shooters may opt for benchrest or varmint scopes of fixed or variable magnification.
Mounting: Many of the low powered, typically 1x-4x variable scopes will include a mount for either carry handle or flattop mounting. Larger and higher powered scopes will typically be mounted with either a quick detach mount or rings enabling the shooter to swap optics in seconds without a loss of zero.
---
NightForce Tactical 5.5-22x56 RifleScopes
NightForce Tactical 5.5 - 22x56 Riflescopes meet the demands of shooters and hunters by combining performance and innovation in a riflescopes without sacrificing ruggedness, dependability, and craftsmanship. Night-Force NXS Riflescopes are the number one choice for military and law enforcement professional who demand unfailing, repeatable performance. These NXS Riflescopes by Night Force offer several distinct enhancements, delivering perfect reliability and accuracy. NightForce Scopes are the finest and most advanced scopes ever produced.
Developed for the military's extreme long range shooting and hard target acquisition, the 5.5-22x56 NXS Riflescopes by Night Force provide broad and magnification and range, combined with a large field-of-view, four inches of eye relief and 100 M.O.A. elevation travel. This range of magnification and internal adjustment allow most .50 BMG's to achieve the 2,000-yard mark with accuracy. These NF NXS Rifle-Scopes are numbered among the most advanced field tactical scopes ever produced. Night-Force established new standards for performance when they debuted these scopes, and they remain the benchmark by which all other scopes are measured.
When either in the battlefield or out for a hunt having your scope zeroed-in is important not only for safety but also for that any once in a lifetime shot. Make a radical adjustment to your NightForce Rifle-Scope 's elevation setting and returning your zero setting can be almost impossible, especially when in fast paced and stressful situations. Nightforce ZeroStop 's relies on a precisely machined internal stop that will not shift or loosen. Our Zero Stop technology was designed at the request of Tier One U.S. military forces, and has been proven in the field under the most rigorous conditions. Now NightForce offers the same tested design to the public.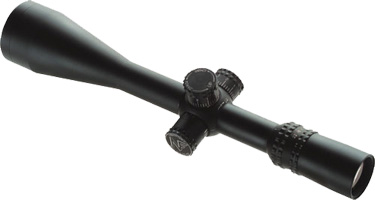 ---
Valdada IOR Long Range Tactical Rifle Scope 4 x 24 M2 .223 Cam
VAL-4x24M2 - 223
IOR Valdada's M2 4x24 Tactical scope is designed for rugged use on a wide array of .223 caliber rifles. Its 30mm tube readily accepts STANAG or Weaver-style rings for attachment to virtually any common mount. It retains the basic characteristics of the M1 model with the addition of an ocular focus.
Photo engraved, illuminated range finding reticule
T3 lens coating system, developed by Carl Zeiss consisting of full multi coating and anti-reflection treatment eliminating glare and maximizing light transmission
6061 T6 Mil spec alloy housing, "O" ring sealed and nitrogen filled
30mm tube diameter
Finger-adjustable knobs
Bullet drop compensated cam for .223 cal. 62gr projectile for ranges from 200 to 800 meters
Adjustable Diopter
Waterproof - Fog proof - Shockproof
Superior optical glass by Schott Glasswerk, Germany
Reticule Choices: Dot Ranging or CQB Tactical Reticule
---
Without question the Nikon Monarch line of rifle scopes is on of the most popular scopes for the AR-15 rifle. It's priced within reach of most shooters with performance and features that rival much more costly scopes.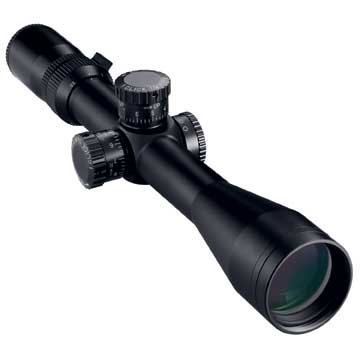 In addition to the Monarch X there's is a low cost Monarch and premium Monarch Gold lines available. Many of the Monarch Gold models include Tactical/Target Turrets in the box. The models that don't include the additional turrets will have them available directly from Nikon. Check out all the Nikon AR-15 Rifle Scope Options here
---
Leupold Alumina Lens Covers
Leupold's Alumina flip-back lens covers provide protection against water, snow, dust, and dirt; yet allow your scope to be ready at a moment's notice. These thread-on covers feature powerful rare earth magnets to hold the lens covers securely closed. Objective and eyepiece covers feature triple O-ring seals to keep the lens clean and dry. These covers feature rugged aluminum construction. They flip back to a low-profile position where they are out of the way and out of your line of sight. Leupold Alumina flip-back lens covers are available for most Leupold scope objectives and eyepieces. More info here.
The lens covers are quite simply the best flip back, flip up lens covers period. They are expensive but worth every cent. These lens covers should come standard rather then the Leupold branded Butler Creek Blizzard Scope Covers.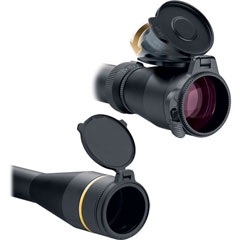 ---
---