AR-15 Stripped Lowers:
---
AR-15 5.56 based Stripped Lower Recievers
A stripped lower receiver is essentially the serialized lower housing with absolutely no other parts installed whatsoever. To utilize a stripped lower you must select and purchase all operating componants such as trigger hardware, pins, safety, magazine release, bolt release etc. The lower recievers are typically made of aluminum or composite materials. The lowers may be cast, forged, machined or a combination of the processes. Despite all the different brands of lower recievers available there is small group of 8 or 9 companies actually performing the manufacturing. View the list of known manufacturers and their customers here.
---
Rugged, semi-auto receiver made from a high-quality forging is built to handle the hard use and abuse of tactical and competitive shooting. Forged from 7075 T6 aluminum alloy, for an extra margin of strength and rigidity over standard 6061 alloy receivers, before precision machining to final mil-spec dimensions. Hardcoat anodized for added strength, then Teflon coated for outstanding resistance to scuffs, scratches, surface abrasion, and discoloration from gun oils. Available as a Stripped lower receiver ready for a full custom build, or Complete and fully assembled including pistol grip and trigger group, with a choice of ambi safety selector or standard, left-side mounted selector. CMMG's engineers designed custom fixtures for final grinding of 10 separate contact surfaces on the trigger, disconnector, and hammer to ensure a crisp, precise release. Proprietary bronze bushings on trigger and hammer pins reduce friction for a consistent, ultra-smooth pull and exceptionally fast locktime. Rounded, low-mass hammer further speeds locktime and reduces wear on contact surfaces. Trigger is function tested before lower leaves factory; compatible with .22 LR conversions. Receiver also includes bolt release lever, mag release button, aluminum triggerguard, and A2 pistol grip already installed. A2-style pistol grip of nearly indestructible polymer has molded-in checkering for a secure grip and is impervious to humidity, temperature extremes, and most cleaning chemicals and lubricants.
Specs: Receiver - Forged 7075 T6 aluminum, hardcoat anodized, Teflon coated, matte black. .223/5.56mm stamped on side of magwell. Pistol Grip - High-impact polymer, black. .154" hammer/trigger pin holes. .250" pivot pin holes.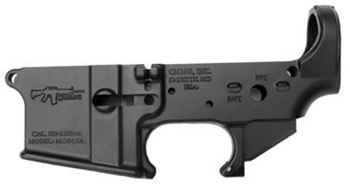 ---
Full-Featured .223 Lower Receiver Features NP3 Nickel Teflon Coating The P-415 .223 Cal.
Lower Receiver P-415, Gen III is manufactured from billet machined 7075 T-6 Aircraft aluminum alloy and features an integral oversized trigger guard. It also offers an AMBI-BOLT Release lever machined into the lower receiver and NP3 Nickel Teflon coating for a lasting durability and lifetime of service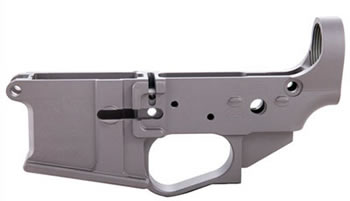 ---
Semi-auto, small-pin lower receiver offers features usually found only on custom-machined specialty receivers-for the price of a basic, mil-spec receiver. Perfect for building a custom AR in the traditional .223/5.56mm chambering, or a special-purpose rifle in 6.5mm, 6.8mm, 9mm, or other caliber that fits a standard AR-15 receiver. Forged from high-grade 7075 T6 aluminum alloy for superb strength. Precision CNC machined to final dimensions with tolerances of less than .001", so it's ready to accept the combination of mil-spec parts that fulfill your requirements. Magazine well is wire-EDM machined with a flared opening, ultra-smooth interior surfaces, and square corners for snag-free magazine insertion. Serrations cut into the front of the receiver provide an extra-secure gripping surface when the support hand is placed on the high magwell. Standard .154" holes for hammer and trigger pins let you install the aftermarket trigger of your choice; .250" pivot and takedown pin holes for compatibility with a broad range of upper receivers. Diamond-cut engraving produces the crisp, clean, serial number, logo, and markings without inducing unwanted stress in the metal caused by other methods. Hardcoat anodized to MIL-A-8625 Type III Class 2 spec to ensure superb surface hardness, before application of a tough, commercial-grade Teflon coating to resist scratches, scuffs, and dings.
Specs: SPECS: 7075 T6 aluminum, hardcoat anodized, matte black finish. Small-pin, .154" (3.9mm) hammer and trigger pin holes. .250" (6.3mm) pivot/takedown pin holes.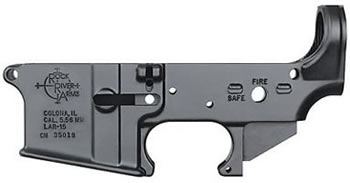 ---
Stripped, single-shot lower receiver is perfect for building a super-accurate target or varmint rifle. Streamlined design does away with the magazine well and the assault rifle "look". Delrin feed ramp accommodates long, very low drag (VLD) bullets for extreme-range shooting, and is removable for installing a .50 BMG bolt-action upper. Uses standard AR-15 internal components.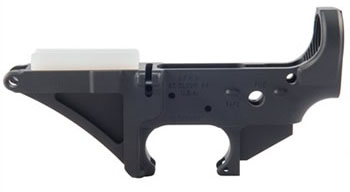 ---