Tactical Lights, Weapon Lights:
---
UTG Defender Weapon - Handheld Tactical Xenon Flashlight LT-ZL168
The UTG DEFENDER WEAPON LIGHT is very inexpensive weapon light $38. It's a very good deal considering it comes with batteries, weapon mount, and pressure switch. This is the light being utilized on our Colt Sporter Project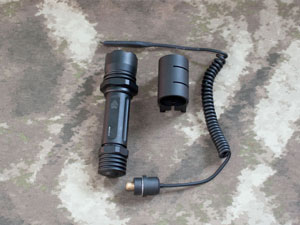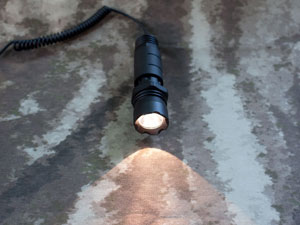 Here is the factory specifications.
Model: LT-ZL168
Bulb Type: 26MM Xenon IRB (Integrated Reflector and Bulb)
Voltage: 6V Max. Output: 126 Lumens
Battery Operating Time: 70 mins
Weight with Batteries: 5.6 oz
Main Body Diameter: 1.00"
Length: 5.22"
Battery/Qty: CR123A x 2
Pressure Switch: Included
Mount/Ring: Slide-on Tactical Style Ring
Focus: Preset
Features:
Patterned Surface for Easy Gripping
Integrated Reflector & Bulb and Preset Focus
Handheld and Weapon-Mount
Law Enforcement Rated Rolling Stop Shoulder
Tail Push-button Momentary Switch and End-cap Twist-on Switch
Complete with Remote Pressure Switch and Tactical Slide-on Ring Mount
Two 3-volt Lithium Batteries Included
Camo pattern courtesy of A-Tacs
---
Title
Insert Content Here
---
---