AR15 TACTICAL:
Welcome to the site. This site is for the shooter and fan of the Colt AR-15 Sporter and its clones. Whether you want to build your own AR-15 by selecting and installing every single part yourself or just do some simple upgrades like replacing the trigger or adding a caliber conversion kit AR15Tactical.net is for you. For the purpose of this site our primary focus will be on topics related to the AR15 based on the 5.56 NATO/.223 Remington and caliber conversions that are compatible with a 5.56 based lower receiver. This will include rimfire,handgun,6.8 SPC and .458 Socom calibers. AR type rifles based on the .308/7.62 sized receiver are being handled by our sister sites 308AR.com and it's forum

Thanks - Andrew
---
Brownells has just delivered the much anticipated AR-15/M16 catalog #11 and it doesn't disappoint. The catalog features many items not yet listed on their web site. You can order one free right here. You might as well grab the Law Enforcement catalog too. Click the image for ordering info for all their catalogs. Better yet save a tree and download the digital versions here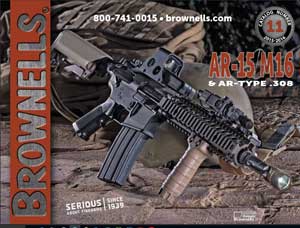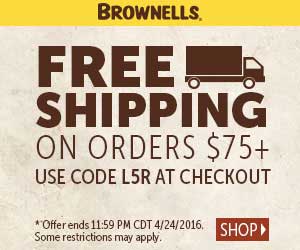 ---
AR15Tactical.net 2016
Many updates is the reason for lack of updates to this site. Last spring Google decided that all websites needed to be mobile friendly or they would get punished in search results. To outsiders who don't know or care how all this website stuff works under the hood this is a BIG DEAL. It requires TIME and MONEY. Not a problem for businesses but for folks like me with a day job it's not so easy. In fact it's a manumental undertaking which I actually began August 2015 and still continue to move forward today. Moving to a new mobile friendly format will be a good thing in the end for obvious and not so obvious reasons. The not so obvious reasons are the new format will allow others to contribute without the need for a dedicated computer or expensive web development software. A simple interface not much more sophisticated than an email program or word. The new format will also interact with common social media like facebook, twitter, pinterest etc. Though that usefulness may be short lived given the current anti gun, anti Second Amendment climate of social media. In my opinion the best change to come out of the new format will be allowing user comments.
Since I started this site in 2008 or so much has changed in the world of the AR15. In many cases the old news and outdated content will not be moved to the new site. Items like technical info and build projects will make the move. No sense wasting time on out of date data when the focus should be on new content. I expect the site work to be done around April. One day you will arrive here and not recognize the place.
In the meantime I encourage you to check out some of the other website projects I have been busy with.
CombatRifle.com - Combatrifle.net has been moved to a dot com and is undergoing the same transformation as this site.
Rimfire World - We have retired the old Tactical22.net site though the content still exists. Rimfire World was born from the ashes of tactical22.net. The focus will be more broad and hopefully unique. The Tactical22.net forum is still alive and kicking at it's new location Rimfire World Forum.
Modular Rifle - This site has been on the back burner for a long time and has finally seen the light of day. Chech it out for firearms you didn't know you needed.
308AR.com - This site and it's forum are for folks who prefer the stopping power of the the AR15's 7.62/308 Winchester AR-10 father. There is also a test site at 762ar.com.
So now your thinking what about the AR15 platform, that is afterall why you landed here. There is two dot com version of this site that were used for testing purposes that will remain active but different. AR15tactical.com and Black-Rifle.net. AR15tactical.com is 100% AR15 while black-rifle.net will encompass and modern sporting rifle.
The other sites also going through the transition but last to be updated are 1022ruger.com, tacticalhandgun.com, tactical1911.com
---

---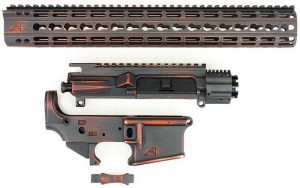 Aero Precisions October limited run builder set is for the AR15 platform and NOT 308AR/AR-10. Too interesting not to share here though. BlownDeadline is certainly taking Cerakote to a new level these days and the "Battleworn Orange Grey" finish is a testament to that. This picture above reflects a 15″ KeyMod handguard,M-Lok is also available. Visit Aero Precision for ordering information.
Aero Precision Battleworn Orange Grey AR15 Builder Set APPG100025 The October Monthly Builder Set from Aero Precision features a custom Battleworn Orange/Grey Cerakote finish done by BlownDeadline, an industry leader in custom firearms coatings! These pieces feature a custom blend cerakote and are hand finished with no two sets being the same. This package deal includes the finished pieces you need to assemble your own Battleworn Orange/Grey AR15 M4E1 Rifle, including an M4E1 Upper Receiver, Gen 2 Lower Receiver, Enhanced Handguard and Billet Trigger Guard all custom finished in Battleworn Orange/Grey. Stand out at the range with a unique and eye catching build. This is a one time offer for this color – once they are gone, they are gone! Includes: M4E1 Enhanced Upper Receiver AR15 Gen 2 Stripped Lower Receiver 15″ KeyMod or M-LOK Handguard Billet Trigger Guard All 4 pieces are finished in Battleworn Orange/Grey
---
Due to high demand, we are offering backorders on this product and will be sending out an additional batch for coating. Click here to order directly from Aero Precision.

Our August Monthly Builder Set is Multicam Black Hydrodip! This package deal features the finished pieces you need to assemble your own Multicam Black AR15 M4E1 Rifle, including an M4E1 Upper Receiver, Gen 2 Lower Receiver, 12″ KeyMod Handguard and Billet Trigger Guard all custom Multicam Black Hydrodip. Stand out at the range with a unique and eye catching build. This is a one time offer for this color – once they are gone, they are gone!

Includes:

M4E1 Enhanced Upper Receiver
AR15 Gen 2 Stripped Lower Receiver
12″ KeyMod Handguard
Billet Trigger Guard
All 4 pieces are finished in Multicam Black Hydrodip

Hydrodip done by Joint Force Enterprises, an industry leader in custom firearms coatings.
---
---
I was Browsing Amazon and I stumbled across these great firearm, AR15, Second Amendment related shirts that I have not seen elsewhere. Check them out here.
The example belows is called "AR15 Builders Club"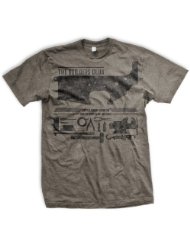 ---

---
I have had my eye on the AIMPOINT PATROL RIFLE OPTIC since it was announced it would be available to consumers. Finally available in quantity I decided to purchase an AIMPOINT PRO unit for my .45acp AR15 project for AR15TACTICAL.COM. The AIMPOINT PRO appealed to me for a few reasons. The first being price. At $400 with an included mount it's priced only slightly higher than inexpensive knockoffs, 2 MOA dot, the AIMPOINT PRO with the removal of a spacer has the ability to co-witness with BUIS, It's NIGHT VISION compatible, 3 year battery life when left on. It's my opinion that the AIMPOINT PRO is the best value in non magnified red dot sights at this time.
As a sidebar my aging eyes are showing signs that EOTech sights wont be working out much longer for me. The AIMPOINT PRO will be a suitable and lower cost alternative.
For the next unit I purchase I will try out with either a LARUE LT129 or BOBRO AIMPOINT MOUNT instead of the included AIMPOINT MOUNT.
Pictures to follow.
---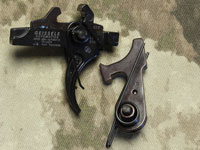 The GEISSELE AUTOMATICS SSA TRIGGER was purchased for the .45acp AR15 build project as a substitute for the CMC AR15 TRIGGER which was not available at this time. In fact all triggers are flying off the shelves and stock is quite low.
Side note this site will be moving to a new domain and the project will allow interactive comments from visitors at AR15TACTICAL.com.
---

I made some changes to deal with the lack of availability of some parts but for all intents and purposes this project is complete. See the project in detail 300AAC BLACKOUT AR-15 BUILD.
---
Since deciding to go with a PICATINNY RAILED GAS BLOCK for the 300AAC BLACKOUT BUILD I realized it had been a while since I looked at the available options for GAS BLOCK FRONT SIGHTS and SIGHT TOWERS. I decided to post my research here. Probably take a bit of time to go through all the options but to date the groundwork and explanations are in place.
---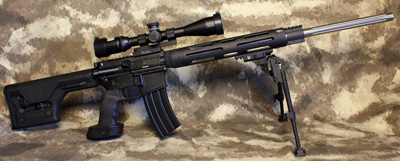 The first AR-15 build of this site is reaching the finale'. All that's left is a decision as to what optics and bipod will be used. So far I'm leaning towards a Zeiss Conquest with a Rapid Z varmint reticule and a GG&G Bipod. Click here to read the details of the AR-15 build.
---
Upgrade an early 90's COLT SPORTER to a modern tactical AR-15. Read about it here.
Before
After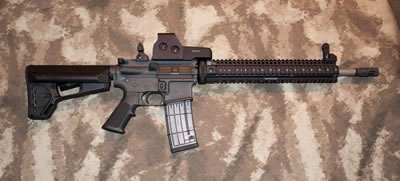 ---
(Geneseo, IL) ArmaLite, Inc. is pleased to announce the AR-10A. This new option of the famous AR-10 will accept traditional ArmaLite "waffle" magazines and some 3rd party magazines.

ArmaLite customers asked for a choice, and that's just what we've provided.
The AR-10A family of ArmaLite® firearms is functionally identical to our AR-10B family. Operation, controls, and maintenance are the same. However, the AR-10A family is designed to accept early ArmaLite AR-10 "Waffle" magazines and good quality magazines copied from them, instead of ArmaLite's proprietary aluminum magazines that are used in our AR-10B family. Neither family of firearms will function correctly with the other family's magazines.

We have tested, we recommend, and we ship polymer Magpul PMAG® 20LR magazines with our AR-10As. Other similar derivative magazines such as the KAC, M110, and DPMS / Remington 19 round magazines may fit and may function, but we have not tested them so we can't assess their reliability. You can purchase extra PMAG®s from our website, www.armalite.com.

The first members of the AR-10A family are the AR-10 Super SASS and the AR-10 A4 Carbine. Both will be formally introduced to the public on Tuesday, January 17th at the 2012 SHOT Show in Las Vegas. If you will be attending SHOT, please visit us at Booth 11771.

ArmaLite has one of the broadest product lines in the firearms industry. We manufacture and sell semiautomatic rifles in a variety of calibers including 5.56mm and 7.62mm, long range super-accurate bolt action rifles in calibers including .308 Winchester, .300 Winchester Magnum, .338 Lapua, 50 BMG, and classic 9mm pistols. Visit ArmaLite at www.armalite.com.
---
Welcome Tactical Machining
Welcome Tactical Machining to our ever growing list of site sponsors and advertisers.

---
In the crowded firearms marketplace folks are always wondering why the should buy brand "X" over brand "Y". Armalite has decided on a regular basis to spell out 101 reasons why you should choose them over the competition. Next installment will complete the list. For now go here and see 90 reasons why you should buy an Armalite.
---
March 3 2012 - Since posting this I have learned that this is in fact a Wilson Rogers SUPER STOC and have since purchased two.
Colt Defense LLC, is pleased to introduce the new Colt® Super-Stoc and announce that it is making the new, leading-edge technology buttstock standard issue on select Colt AR and M4 rifles sold into the domestic commercial and law enforcement markets. The new Colt Super-Stoc, designed by Bill Rogers, will be available later this month.
"Since 1836, Colt has been committed to offering nothing but the highest quality products to each and every customer," said David Ridley, vice president, Colt Defense. "With the new Colt Super-Stoc, we continue to deliver on that tradition by pairing one of the most advanced stocks available with the best rifle in the world."
Colt Defense and Bill Rogers have teamed up to engineer the most advanced, third generation of the Super-Stoc, using innovative technologies and proprietary materials. Designed to be as lightweight as possible while maintaining durability, the Colt Super-Stoc weighs 6.56 ounces, ranking it among the lightest stocks available. The stock is designed specifically for the new Colt rifles to give an unequaled fit and survivability during the most extreme conditions.
"The Colt Super-Stoc is one of the lightest, strongest and most secure collapsible stocks for the M4/AR series of weapons," said Bill Rogers, chief shooting instructor, Rogers Shooting School. "Our partnership with Colt was a no-brainer. We want the highest quality rifle in the world to be outfitted with the world's newest and most technologically advanced stocks available."
A unique Cam-Lock system is a new design feature that, when operated, securely locks onto the buffer tube like a solid stock. This Cam-Lock system completely removes any slop or play commonly inherent with after-market collapsible stocks as well as eliminating any movement due to wear. The Cam-Lock lever also features a convenient reversible design, enabling the user to customize his or her stock to suit the desired preference. Other features include a removable recoil pad, sling loop, quick detach swivel sling mount and Quick Release lever which unlocks the Cam-Lock and indexing pin with one motion.
The original M4 buttstock will still be made available to commercial and law enforcement customers by Colt Defense. For more information on the new Colt Super-Stoc or Colt's classic M4 stock, please visit Colt.com.
Colt is making available a new buttstock they've recently developed. It represents a third-generation of buttstock technology and was developed in partnership with renowned shooting instructor, Bill Rogers. Colt's new Colt Super-Stoc is available this month and features numerous improvements over similar buttstocks, listed below.
Fit – Performs like a solid stock -
A unique Cam-lock system securely locks the stock on the buffer tube and removes the slot or play that is all too common in after-market collapsible stocks.

Lightweight -
Even with features such as a recoil pad, sling loop, Quick Release level and Cam-Lock system, the Colt Super-Stoc is on of the lightest buttstocks on the market.

Additional Features -
Removable recoil pad, sling loop, quick detach swivel sling mount, Cam-Lock system, Quick Release lever
---
BROWNELLS BEGINS AMMUNITION SALES
I have waited a long time for this day. Click the banner below for the current specials.

---
JP RIFLES PSC-11 Side-Charge Upper Receiver Kit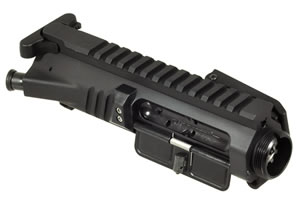 I am really thinking I need to build a rifle around the JP PSC-11. I am actually considering a complete upper or rifle. Somebody stop me.
Since its introduction at SHOT Show 2011, our dual-charging PSC-11 platform has become a true hit. Integrating the popular side-charge system of the LRP-07 and SCR-11 platforms into a machined-from-billet receiver that doesn't sacrifice any of the functionality or compatibility of a standard Mil-spec upper has made the PSC-11 the best-of-both-worlds option for the all-out tactical market. Now, for the home rifle builder, we're making this platform available as a complete upper receiver kit including:
PSC-11™ upper receiver
Ejection port cover and hardware
Forward assist and hardware
Top- and side-charging systems
Full Mass JP Bolt Carrier
JP EnhancedBolt™ group (including bolt, cam pin, firing pin and firing pin retaining pin)
This kit assembles exactly like a standard forged upper with the simple addition of the side-charge handle, which slips into place as easily as a standard T-handle. If you can build an upper, you can build your own PSC-11 and tap the potential yourself.
---
Over on my 308AR.com forum MechArmor the folks behind the TacOps-1 Charging Handle and Battle Arms Development the makers of the BAD A.S.S Ambidextrous Safety Selector are new active members of the 308AR.com forum and are offering some forum special pricing. Check it out here.
---
Bits & Pieces
A few ups and downs in the past few days. The down or should I say bad news is that the state of CT has passed a law that will eliminate nearly all of the funding for my sites. All in the name of collecting taxes from Amazon.com.
The good news: I was contacted by the fine folks at Mecharmor who kindly pointed out that I have an out dated image of the Tacops charging handle. Mecharmor is loaning me two for photographic purposes, one for 308 AR and the other for AR-15. I look forward to getting these in hand. They are becoming all the rage for 3 gun shooters.
The other bit of good news is the folks at Battle Arms Development are sending me a BADASS or Battle Arms Development AMBIDEXTROUS SAFETY SELECTOR for evaluation. BTW the BADASS works with the AR-15 and 308 AR
---
The fine folks behind the BAD A.S.S AR-15 AMBIDEXTROUS SAFETY SELECTOR are now site sponsors and active members of the 308AR.com. Join the forum and check them out. Click here.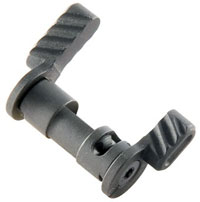 ---
I'm often asked "can I convert my AR-15 to .308?" The standard answer is no because folks are usually referring to the .308 Winchester cartridge which is too long for an AR-15 receiver to accept. Well because of new ammunition developments it has become a little more of a grey area. There are now two new cartridges on the market that are a .30 caliber .308 bullet in case of similar dimension to the 5.56 NATO/.223 Remington. The first is the REMINGTON 300 AAC BLACKOUT. The great thing about the 300 blackout is it's compatibility with Mil spec AR-15 hardware. The only change the weapon needs is a new barrel. The 300 AAC BLACKOUT uses a mil spec AR-15 bolt and your favorite AR-15 magazine.
The other new cartridge 7.62x40WT is from WILSON COMBAT. While similar to the 300 AAC BLACKOUT in addition to a new barrel it also requires a slightly modified AR-15 magazine.
We are getting so many questions regarding these two calibers we decided to add a section for each on the 308AR.com forum.
Visit the caliber specific forums:
---
Available now from Wilson Combat - The 7.62x40 WT (Wilson Tactical) is an all new powerful .30 caliber cartridge solution for the standard AR-15 rifle platform that is inherently accurate, low recoil and only requires one unique part - a new barrel.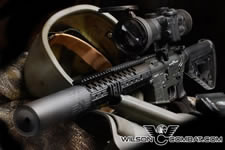 The 7.62x40 WT works with all other standard pattern 5.56 AR components and is completely reliable with the new Lancer® L5 AWM magazines as modified by Wilson Combat.
The wide range of available .30 caliber hunting bullets makes the 7.62x40 WT an ideal choice for hunting of medium to large size game with the downrange ballistic performance only a .30 Caliber projectile can deliver. Experienced shooters will be pleased by the match grade accuracy and terminal effectiveness and energy easily exceeding the 7.62x39 Russian, while novice shooters will appreciate the mild recoil and low report. Tactical shooters looking for a hard hitting, fast handling, practical .30 Caliber AR-15 service carbine will find the 7.62x40 WT a viable alternative to the 5.56x45 for self defense and law enforcement applications. With 18/19 or 28/29 round capacity using Wilson Combat modified Lancer® L5 AWM 5.56 magazines, maximum firepower is retained. The 7.62x40 WT cartridge is based on a standard Lake City 5.56x45 NATO/.223 cartridge case that goes through a simple shortening and reforming operation to achieve appropriate cartridge dimensions. Wilson Combat has everything you need to fully support this caliber.
---
Several months ago I purchased a 4 MOA Aimpoint Comp M2 from SKD Tactical. It's been sitting by just waiting for a mount. Well for Christmas the little woman was sweet and bought me a Larue Tactical LT-129 QD Mount (from SKD Tactical)designed specifically for the Aimpoint Comp M2. I think the combination is tough to beat. Right now my plan is to mount the unit on my FS2000.
Click on the images below to view them full sized.
---
Click here for ordering information.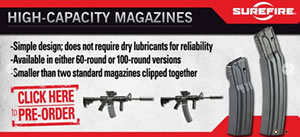 ---
Fountain Valley, CA -- SureFire, LLC, manufacturer of high-end illumination tools and tactical products, is proud to announce the release of its hi-capacity 60- and 100-round (STANAG 4179) aluminum magazines for .223/5.56mm NATO M4/M16/AR15-style firearms. These new high-capacity magazines (HCMs)—dubbed the MAG5-60 and MAG5-100—are designed to provide military units with an overwhelming tactical advantage in the delivery of firepower.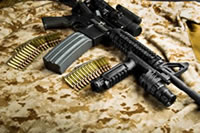 "In the current wars in Iraq and Afghanistan, ambushes are commonplace, and the outcome is often determined in the first 30 seconds," said Don Alexander, SureFire's Director of Military Sales and retired Special Forces operator with six combat tours. "Firepower and the ability to stay in the fight are key. These magazines will reduce soldier vulnerability by keeping them in the fight for longer periods of time, with less downtime spent on reloads."
In battle, it typically takes the average soldier four seconds to reload his weapon and reacquire a target, valuable time that could be spent engaging threat targets. At best, 30-round magazines allow a soldier to fire no more than 150 rounds in 30 seconds. SureFire's 60-round high-cap magazine increases that figure to 240 rounds; its 100-rounder to 293 rounds. And both will support military units planning to incorporate full-auto firepower to more of their operators.
SureFire HCMs easily and securely fit into the host weapon, with the bolt closed, when loaded with the maximum round count. The design of the magazine takes into account the allowable tolerances of cartridges manufactured to NATO and SAAMI specifications. A 4×2 quad-stack configuration features a revolutionary internal spring and follower system designed to be more reliable than current standard MILSPEC USGI 30-round magazines. This proprietary internal design also allows SureFire HCMs to be stored indefinitely while fully loaded, in preparation for deployment, which means individual units can be issued ammo supply crates with pre-loaded magazines instead of empty mags and ammo cans, another potential lifesaving benefit in critical-response situations.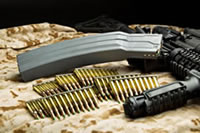 The MAG5-60 will fit into most nylon pouches with Velcro® cover flaps intended to hold two standard 30-round magazines, but double magazine pouches with stitched partitions may require some alteration. Both the 60- and 100-round HCMs can be disassembled for periodic cleaning or as required. The magazine floor plate can be easily removed from the body using a punch, the tip of a cartridge, or a variety of common tools.
SureFire HCMs are the result of an entirely new division at SureFire, in partnership with L. James Sullivan and Bob Waterfield of Arm West, LLC. Mr. Sullivan is best known for co-developing the Armalite AR-15/M16 (M16A1) rifle and the original 20-round 5.56mm box magazine. They will be assembled and distributed by SureFire's new Reno, Nevada, facility, the company's first venture outside of Southern California, and will initially be available only from authorized SureFire dealers in states without any HCM regulations. Processes are also being developed for dealers in locations that do have HCM regulations, including California, Hawaii, Illinois, Maryland, Massachusetts, New York, Ohio, and Washington, D.C. MSRP is $129 for the 60-round magazine and $179 for the 100-rounder, with orders expected to begin shipping in March of 2011.
| | |
| --- | --- |
| CALIBER | 5.56 NATO/.223 REMINGTON |
| HEIGHT | 8.7" / 22.1 cm |
| WIDTH | 1.66"/4.2 cm body, 0.88"/2.2 cm neck |
| WEIGHT-EMPTY | 6.4 ounces / 181 grams |
| WEIGHT-FULLY LOADED | 2.02 lbs / 920 grams |
| BOX MATERIAL | 6000 SERIES ALUMINUM |
| FOLLOWER MATERIAL | NYLON |
| CONSTRUCTION | SPOT WELDED |
| FINISH | MIL-L-46010 |
| COLOR | GRAY |
| | |
| --- | --- |
| CALIBER | 5.56 NATO/.223 REMINGTON |
| HEIGHT | 12.2" / 31 cm |
| WIDTH | 1.66"/4.2 cm body, 0.88"/2.2 cm neck |
| WEIGHT-EMPTY | 9.6 ounces / 272 grams |
| WEIGHT-FULLY LOADED | 3.3 lbs / 1.5 kg |
| BOX MATERIAL | 6000 SERIES ALUMINUM |
| FOLLOWER MATERIAL | NYLON |
| CONSTRUCTION | SPOT WELDED |
| FINISH | MIL-L-46010 |
| COLOR | GRAY |
Located in Fountain Valley, California, SureFire is a leading manufacturer of high-performance flashlights, weapon-mounted lights, and other tactical equipment for those who go in harm's way, or anyone who demands the ultimate in quality, innovation, and performance. SureFire illumination tools are used by more SWAT teams and elite special operations groups than any other brand. SureFire is an ISO 9001-2008 certified company.
Press Contact: Ron Canfield, rcanfield@surefire.com, 800-828-8809 ex. 2258
---
Here's something you don't see every day. An off the shelf Flat Dark Earth QD Scope Mount. The Noveske Rifleworks FDE Quick Detach Extended cantilever mount provides plenty of eye relief to mount a 30mm scope, or position a magnifier, night vision device, or other sighting accessory behind the main optic. Two quick-release levers clamp to a flattop receiver rail with unique cam action for a tight hold during recoil. Depress the locking tabs, swing both levers open, and the mount easily lifts off the rifle. Cross bars can be adjusted to fit almost any Picatinny or Weaver-style rail, including over- or under-sized commercial rails. Levers may be positioned to open to the front or the rear to suit the operator's preference. Five, heavy duty steel hex head screws (three on top, two on bottom) clamp the 30mm vertically split ring halves together.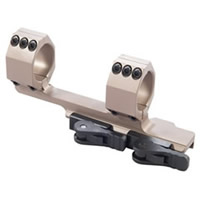 ---
Sturm, Ruger & Company, Inc. announces the availability of three, AR-style upper receiver assemblies featuring the innovative two-stage, piston driven performance of the SR-556® family. These rugged and reliable SR-556 piston driven uppers run cleaner, cooler, and are easier to maintain than traditional gas driven systems, offering significantly improved reliability. SR-556 upper assemblies will be available through firearms retailers and ShopRuger.com.
Now all AR owners can enjoy the features of the SR-556 platform, including the patent pending two-stage piston driven operating system that provides a smooth power delivery stroke to the action and vents combustion residue out of the bottom of the gas block. The four-position adjustable gas regulator allows the operator to tune the rifle to specific ammunition and rifle conditions, minimizing recoil and maximizing reliability and long-term endurance. Reliability is further enhanced by a one-piece bolt carrier with an integral transfer key. Designed for long-lasting accuracy, the chrome lined barrels are cold hammer-forged from Mil-Spec 41V45 Chrome-Moly-Vanadium steel.
The standard SR-556 upper chambered in 5.56 mm NATO/.223 features a heavy contour, 16.1″ barrel with a 1:9 twist rate, and is capped with a Mini-14/SR-556 flash suppressor mounted on 1/2-28 threads. A one-piece, ten-inch quad rail handguard provides ample room for mounting sights, optics and accessories. Made exclusively for Ruger, this SR-556-specific handguard is pinned to the upper receiver, creating a near-monolithic upper receiver assembly and providing a rugged mounting system for the piston driven transfer rod.

A carbine-length version of the popular SR-556 two-stage, piston driven AR-style upper is also available. The carbine upper features a heavy contour, fluted barrel that is 1-3/4″ shorter and a half-pound lighter than the barrel on the standard SR-556. The 1:9 twist rate, 16.1″ barrel on the carbine features an integrally machined flash suppressor, which minimizes the overall length of the barrel while complying with ATF regulations for civilian and commercial sales. This carbine version maintains the mid-length gas system and heavy (.850″) barrel contour under the handguard, but the barrel is fluted for weight reduction and to promote barrel cooling.
Those seeking to equip their modern rifle with ample power for hunting medium-sized game or greater muzzle and downrange energy capability for defensive or tactical roles can select an upper chambered in the capable 6.8 SPC caliber. The SR-556/6.8 features upper features a heavy contour, 1:10 twist barrel with a standard SAAMI 6.8 SPC chambering. The chrome-lined, cold hammer-forged barrel is 16.12″ long, is threaded 5/8-24, and is capped with the effective and distinctive Mini-14/SR-556 flash suppressor.
All three uppers are equipped with folding, back-up iron sights. These rugged, high-quality sights Co-witness with Mil-Spec optics, and are easily removed or replaced. The sights can be folded down with the push of a button, or quickly flipped up with your thumbs. The windage adjustable rear sight includes an instantly converted short and long-range aperture, and the protected front sight is elevation adjustable.
Durability and performance of the SR-556 is enhanced with the use of high-performance finishes: The barrel and gas block are chrome lined, while the piston, bolt, bolt carrier, and extractor are chrome plated. The piston driven transfer rod is electroless nickel/Teflon coated. The flash hider and the exterior of the barrel, gas block, and regulator are manganese phosphate coated. All aluminum parts are Mil-Spec hard coat anodized.
The SR-556 rifle and carbine uppers chambered in 5.56mm NATO are shipped with three, thirty-round Magpul PMAG™ magazines. These lightweight magazines feature a storage/dust cover, a stainless steel spring, and a self-lubricating, anti-tilt follower. The 6.8 SPC chambered upper is shipped with one five-round magazine and two twenty-five round magazines. Three rail covers, provided with each upper, provide a comfortable ergonomic hold when carrying or shooting. All Uppers are shipped in a padded carry case that features the Ruger logo, hook-and-loop fasteners to stabilize the rifle within the case, and internal magazine pockets.
For more information on the cooler cleaner performing AR uppers from Ruger, or to learn more about the extensive line of Ruger firearms, visit Ruger.com. To find accessories for the SR-556 Uppers or other Ruger firearms, visit ShopRuger.com.
---
The newest edition of ArmaLite's popular catalog is available on-line and in hard copy.
(Geneseo, IL) ArmaLite, Inc.® is pleased to announce that its new 2011 catalog is now available on line here. The new catalog features the latest in ArmaLite's fine quality firearms and accessories including many new third party items from top level manufacturers like MAGPUL and TRIJICON. You may also order a hard copy of the ArmaLite catalog by calling 800-336-0184 or by visiting Armalite and following the instructions.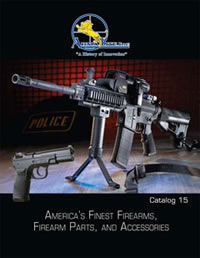 About Armalite:
ArmaLite has one of the broadest product lines in the firearms industry. We manufacture and sell semiautomatic rifles in a variety of calibers including 5.56mm and 7.62mm, long range super-accurate bolt action rifles in calibers including .308 Winchester, .300 Winchester Magnum, .338 Lapua, and 50 BMG, and classic 9mm pistols. Visit us at www.armalite.com.
---
Brownells Stripped, A3-style upper receiver is precision machined from a 7075 T6 aluminum alloy forging to USGI dimensions, ready to mate with the mil-spec lower and internal components of your choice. Includes M4-type feed cuts and alphanumeric position markers stamped into the rail slots. Extra hard 7075 T6 alloy offers superb strength to handle the battering of thousands of firing cycles. Hardcoat anodized to resist wear, add strength, and protect from corrosion. Hard dry-lube surface treatment protects the anodizing from scuffs and reduces friction between bolt carrier and receiver walls for ultra-smooth operation, less wear, and longer service life. Matte black finish matches most factory upper receiver and barrel finishes. Logos will not fade or wear off. Available with Rifleman's Creed or Zombie Hunter logo.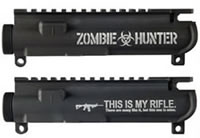 ---
Two-piece machined steel muzzle brake employs an adjustable, push-down, spring-tensioned, rotating cover design with three port hole sizes to choose from to direct combustion gases upward to virtually eliminate muzzle rise and felt recoil. Enables fast, accurate follow-up shots in semi-auto mode and superb control in full auto. Designed by Greg Carlson especially for reloading enthusiasts who enjoy experimenting with different powder weights, bullet grains, and loads for increased velocities and shooting performance. Cover is selectable for either a large, medium or small gas vent port by depressing the knurled selector cylinder and aligning port and cover hole; release cover to activate locking pin mechanism. Gas escapes upward to counteract upward force on the muzzle without directing concussion and noise back at the shooter. Solid bottom prevents kicking up dust signature when shooting prone.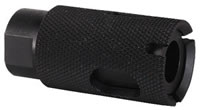 ---
Nikon M-223 Honored With Field & Stream "Best Of The Best" Award
The Nikon M-223 2-8x32 rifles scope was put through a vigorous test by a Field & Stream panel of judges and awarded "Best of the Best" for 2010. The staff of testers agreed the M-223 is innovative and the absolute best in optics.
Recognizing the popularity of AR rifles, Nikon has developed a new line of Riflescope's built to deliver extreme speed, accuracy and shooting confidence. The M-223 line offers five new Riflescope's, all engineered for the .223 Rem./5.56mm NATO round with 55-grain polymer tipped bullet with a muzzle velocity of 3240fps. With Nikon's latest reticle and adjustment technologies, the M-223 integrates the same level of quality as the flagship Monarch Riflescope's.
"Field & Stream's "Best of the Best" recognizes outstanding products in our industry," said Jon LaCorte, Senior Product Marketing Manager, Nikon Sport Optics. "We are thrilled our M-223 Series was selected as Field & Stream 2010's "Best of the Best."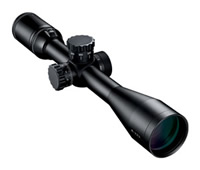 The 2-8x32 is available with Nikon's all new BDC 600 reticle or the Nikoplex reticle with Nikon's new Rapid Action Turret system; both are ballistically matched to the 223 Rem. round and offer unprecedented speed in dialing-in your shots for virtually any known distance-from 0 to 600 yards.
The M-223 2-8x32 comes standard with Nikon's Anti Reflective Device (ARD) to eliminate objective lens glare. MSRP is $349.95 for the 2-8x32 with BDC 600 reticle and $329.95 for the 2-8x32 with Nikoplex reticle.
Nikon Inc. is the U.S. distributor of Nikon sports and recreational optics, world-renowned Nikon 35mm cameras, digital cameras, speedlights and accessories, Nikor lenses and electronic imaging products.
For more information on Nikon's full line of Riflescope's, Binoculars, Spotting Scopes, Field Scopes and Laser Rangefinders, please contact: Nikon Sport Optics, 1300 Walt Whitman Rd., Melville, NY 11747-3064, or call 1-800-645-6687
---
My good buddy Rob turned me on to an amazing group buy over at arfcom. The group buy was taken care of by the fine folks at SKDTactical. If you happen to be familiar with the Aimpoint CompM2 you probably know that it costs $475 just about everywhere. Well the purchasing power of this group buy allowed SKD Tactical sell the Aimpoint CompM2 for $380 delivered. I received my unit in less than a week. Of course now I'm not certain whether I'm going to use the Aimpoint CompM2 on an existing gun such as my FS2000, the AR-15 from the Sporter project or on the new 6.8 SPC II build. Regardless It will be going in a Larue Mount. Pictures and a review will follow shortly.
---
Ruger SR556 Chambered in 6.8 SPCII
Sturm, Ruger & Co., Inc. (NYSE:RGR) is pleased to announce the new Ruger SR-556/6.8, a new chambering in the popular SR-556 two-stage, piston-driven, AR-Style rifle. The new SR-556/6.8 brings the power and downrange authority of the 6.8 SPC cartridge in a two-stage piston rifle that runs cooler and cleaner than traditional gas-driven, AR-style rifles. Packaged with one five-round magazine and two twenty-five round magazines, the SR-556/6.8 is an ideal hunting rifle for those who appreciate the versatility of the customizable and ergonomic AR-style platform. The 6.8 SPC has ample power for hunting medium-sized game, and the greater muzzle and downrange energy enhances the capability of the SR-556 in defensive or tactical roles as well.
The SR-556/6.8 retains all the features of the original SR-556® that make it an outstanding value in the AR-style rifles. The patent-pending, two-stage piston delivers a smooth power stroke to the one-piece bolt carrier, which softens recoil, aiding both shooter comfort and durability of the rifle. The four-position gas regulator allows the shooter to tune the rifle to the ammunition being fired and environmental conditions present. A chrome-lined, cold hammer forged barrel provides accuracy and longevity, Troy Industries Folding BattlesightsTM, Quad Rail and rail covers add considerable value to the package, as does the Hogue® Monogrip®, six-position stock, sight adjustment tool, and the padded carry case, all included with the SR-556/6.8.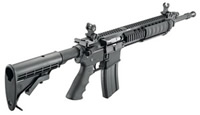 The SR-556/6.8 maintains the mid-length gas system and the heavy (.850") barrel contour under the handguard of the original SR-556. The 1:10 twist barrel has a standard SAAMI 6.8 SPC chambering, is 16.12" long, is threaded 5/8-24, and is capped with the effective and distinctive Mini-14/SR-556 flash suppressor. The SR-556/6.8 weights 7.75 pounds without a magazine. For more information on the SR-556/6.8 or any of the other rifles, pistols, or revolvers offered by Ruger, please visit www.Ruger.com, or see your local firearms dealer.
I picked up a CMMG "SIERRA" .22lr dedicated upper this week. Check it out here.

---
Now that the Colt Sporter Tactical Upgrade project is complete I have started to gather parts and a plan for the next project. This project will be a 300AAC BLACKOUT build which centers on an Adams Arms Mid Length Gas Piston System.
---
GG&G has offered flip up lens modules for many EOTech sights for quite some time. I have also wished for a while that it was an option for my 557AR223. Unfortunately the 557 AR223 hood design didn't allow for the flip up module to be installed. Well I'm here to report that GG&G has solved this by offering a new hood with the flip up lens module installed. GG&G also etched the hood with windage and elevation marking. Lastly in a fashion similar to a land mine the front lens cover is engraved with "Front Towards Enemy"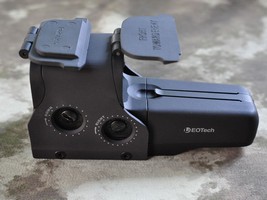 ---
The little woman did some birthday shopping for me at Brownells and I ended up with this awesome Adams Arms Gas Piston Retrofit. This was the nudge to to send me in the direction of the 6.8 SPC II build mentioned above. I'm anxious to get this installed and running.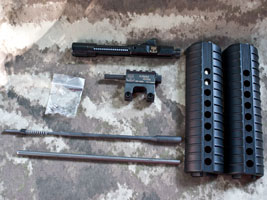 ---

---
I just spotted this deal at Brownells. You can purchase the CMMG Ar-15 .22LR Conversion Unit with three Black Dog Magazines for a good price. What a difference a year makes. Check it out here.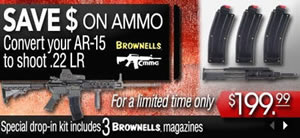 ---
The EZ CAR™ Rail is the perfect drop in replacement for your plastic hand guards. The EZ CAR™ Rail from Daniel Defense has been engineered to offer a rock solid mounting platform for all your AR accessories. The EZ CAR™ Rail easily replaces factory installed plastic hand guards, and it offers a Mil-Spec quad rail that installs in seconds. As simple to install as a traditional hand guard, the EZ CAR™ Rail mounts to a standard delta ring and hand-guard cap of a carbine length gas system with no modifications to the host weapon.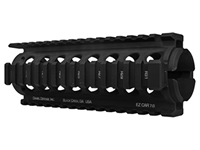 Engineered and produced at the Daniel Defense state-of-the-art manufacturing facility in Black Creek, GA and finished in rugged Mil-Spec Type III hard coat anodizing, shooters are sure to appreciate the latest lightweight quad rail to come from Daniel Defense. Precision CNC machined from Aircraft Grade 6061-T6 Aluminum and Military Specification Type III Hard Coat Anodized for a rock hard lasting finish. The EZ CAR™ Rail weighs in at an amazing 9 Ounces.
Uninterrupted upper rail platform
ZERO Modification to host weapon
Light weight
User installed with no special tools
Aircraft Grade Aluminum
Aircraft Grade 6061-T6 Aluminum
Military Specification Type III Hard Coat Anodized
9 Ounces!
Made in the USA!
---
Lancer Systems Configurable AR Platform Lower Receiver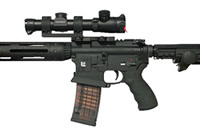 Lancer Systems LP is pleased to announce the introduction of our L15 Lower Receiver with changeable Magazine Well Extensions (Magwells). The L15's changeable Magwells make it the most versatile AR receiver available today. With three Magwell configurations to choose from the L15 lower can be rapidly customized for a specific mission, trip to the range or 3 gun match.
The Tactical and Competition Magwells have a large smooth funnel like internal surface to facilitate rapid magazine changes. The standard size Magwell emulates the size of a typical AR lower. The Magwells attach to the lower via a captured rail and locks into place with a standard front take down pin. The use of the take down pin allows the Magwells to be removed without the use of special tools.
The Magwells are precision machined from aluminum billet to match the features in the lower ensuring there is no rattle during operation. The lower also features an ambidextrous bolt release and oversized magazine release button.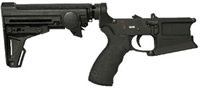 The L15 lower is available stripped or complete with various trigger and magazine well options. For more information on the different options available visit Lancer-systems.com.
Made in the USA
Mission Configurable Lower Receiver
Changeable magazine well extensions
3 magazine well extension sizes
Standard
Tactical
Competition
Lower Machined From 7075 Aluminum Billet
Oversized Magazine Release Button
Ambidextrous Bolt Release
Broached Magazine Well
Coated to MIL-A-8625, TYPE III CLASS 2
---
I purchased the Troy Battle Sights as part of a project to upgrade my early 90's Colt Sporter. Look for more pictures and a review soon. See the project in it's entirety at AR15Tactical.net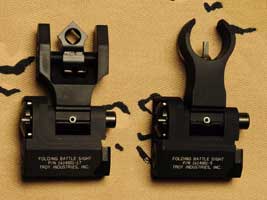 ---
A leap forward in camouflage technology smartly breaks up the silhouette of America's most popular M4-Type Carbine. The Bushmmaster M-4-Type Carbine in A-TACS is now available. For more information check out www.bushmaster.com.

---
This particular upper was designed with a mid length gas system, which gives you multiple advantages over the more traditional carbine length gas systems. A mid length gas system is longer by 2" allowing a longer sight radius between front and rear sights for easier target acquisition and also giving you more available rail space to attach tactical gear. The extra length also means you can have a more comfortable shooting stance because it allows you a longer reach. These tactical uppers retail for $999.

These uppers come equipped with:
16" mid length chrome lined government contoured barrel
1:9 right handed twist
Midlength free floating quad rail
Adams Arms mid length piston system
Adams Arms receiver with M4 feed ramps
A2 flash hider
---
Get a jump start on your next AR-15 Build or help your friend build their first one. This starter kit includes: "How To Build An AR-15", Produced by Brownells, this easy-to-follow, step-by-step video guide is your ticket to the custom AR-15 you've always wanted. The presentation is divided into a series of short segments, each devoted to a specific subassembly or variation of one. Watch only the segments that apply to the rifle you want to build. If you decide to modify your rifle later, go back and just watch the segments that cover your planned changes. A big help taking apart sub-assemblies like the bolt and gas system for cleaning or trouble-shooting, too. Printable PDF instructions are included with the DVD, and are accessible with your computers DVD drive; A DPMS Lower Parts Kit. Includes: trigger, trigger spring, trigger pin, hammer, hammer spring, hammer pin, disconnecter and spring, bolt catch, b/c plunger, b/c spring, b/c roll pin, selector, selector detent, selector detent spring, (2) take down detents and springs, pivot pin, rear take down pin, buffer retainer and spring, magazine catch, button and spring, A2 pistol grip, screw and washer, trigger guard assembly and pin; Brownells .223 Tactical Flash Hider, Low-profile, screw-on flash suppressor meets the needs of the most demanding tactical and competition shooters. Developed by Brownells' in-house engineering team with plenty of input from the many dedicated shooters on our staff to give you a powerful flash suppressor that also helps reduce muzzle rise; Ten grey AR-15/M-16 30 Round Brownells Magazines. The most up-to-date & reliable civilian magazine available.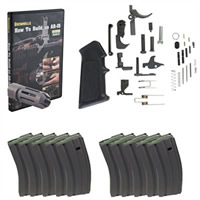 SPECS: 1 DVD. 2 hours 10 minute; Lower Parts Kit - Unassembled kits packaged in heat-sealed, poly bags. Fits AR-15 only; .223 Tactical Flash Hider - 4140 steel, black oxide finish, matte black. .223 - 23⁄8" (6cm) long, .859" (2.2cm) O.D. 3.3 oz. (94g) weight. ½"-28 tpi RH thread. Fits .223/5.56 NATO AR-15-type rifles and carbines;SPECS: 1 DVD. 2 hours 10 minute; Lower Parts Kit - Unassembled kits packaged in heat-sealed, poly bags. Fits AR-15 only; .223 Tactical Flash Hider - 4140 steel, black oxide finish, matte black. .223 - 23⁄8" (6cm) long, .859" (2.2cm) O.D. 3.3 oz. (94g) weight. ½"-28 tpi RH thread. Fits .223/5.56 NATO AR-15-type rifles and carbines; Magazine - Aluminum body, MIL-STD hard-anodized, dry-lube coating. Chrome silicon spring. MIL-STD plastic follower. Aluminum body, MIL-STD hard-anodized, dry-lube coating. Chrome silicon spring. MIL-STD plastic follower.
---
Every week I wait in anticipation to see what Brownells will be adding to their catalog. Today did not disappoint with the PWS DC-16 Complete Piston Upper being at the top of the new product list.
Drop-in ready upper receiver assembly is the fast, easy way to convert your AR to a gas piston operated tactical carbine with a low-profile accessory rail system. The DC (Defensive Carbine) uses a "long stroke" piston to reduce felt recoil and provide smooth, consistent cycling for more comfortable shooting, faster return-to-target for follow-up shots. Improves reliability, too, by keeping carbon fouling out of the receiver.. The quad rail system clamps the barrel securely to the receiver to produce an ultra-rigid, yet compact platform that keeps the piston system properly aligned. Provides over 40" of accessory mounting space, including 16" of uninterrupted top rail that extends forward of the gas block. The bottom rail and each side rail has a receptacle at the rear for push-button, single-point sling attachment. Comes with plenty of Magpul XTM™ rail covers to cover unused portions of the rail. The cold hammer forged, chrome-lined 16" barrel is chambered for 5.56mm NATO ammo, with M4-type feed ramp cuts in the barrel extension to aid in reliable chambering. A PWS FSC556 flash suppressor/compensator minimizes muzzle flash and counteracts muzzle rise, further aiding in fast follow-up shots.

---
The Colt LE6940CK Monolithic Upper Assembly feature's Colt's new monolithic upper receiver. In addition to an uninterrupted full-length front rail, this upper receiver allows for a free-floated barrel. This LE6940CK Monolithic Upper Assembly also features a gas-block mounted front flip-up sight with bayonet lug and a MaTech backup rear sight. The barrel is Colt's standard 16.1" chrome lined M4 barrel with an A2 flash hider up front.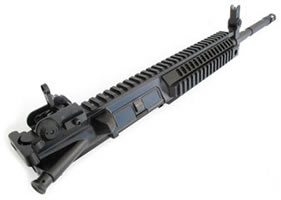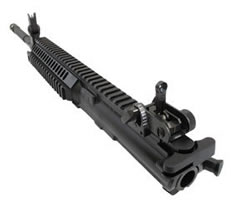 ---
I just received my chrome Young Manufacturing Bolt Carrier Group. I cant wait to try it out. This complete bolt carrier group is a fine example of manufacturing beauty. Check out the picture below, click the picture to view full size version.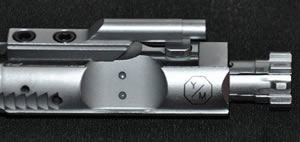 ---
100% CNC machined from a solid billet of 7075 t-6 aircraft grade aluminum. Features include "blacked out" T marks, M4 feed ramps and of course a mil-spec basic design to fit and function with any other manufacturers parts and accessories. Made with an aggressive appearance as well as a tough finish, Black Rain Ordnance uses hard coat grade III black anodizing with a Teflon coating. All stripped uppers must be assembled by a licensed gunsmith or AR-15/M16 armorer.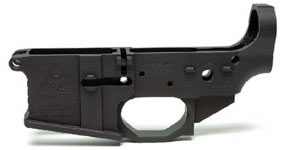 Custom milled lower receiver that's 100% CNC machined from a solid billet of 7075 t-6 aircraft grade aluminum to mil-spec dimension to fit and function with any other manufacturer's parts and accessories. Made with an aggressive appearance as well as a tough finish, Black Rain Ordnance uses hard coat grade III black anodizing with a Teflon coating. All stripped lowers must be assembled by a licensed gunsmith or AR-15/M16 armorer. Blackrainordnance.com.

Features include:
Weight: 8.60 ounces (after anodizing and Teflon coating ready to assemble.)
Flared magazine well Solid winter trigger guard
Milled, three dimensional logo
Battle Grooves in opposing front
Mil-spec basic design to fit and function with any other manufacturers' parts and accessories.
MULTI CAL designation
Pictograph Fire/Safe and Full Auto Designation for L.E. and S.O.T. use
Other colors are available upon request
---
While our upper and lower are a perfect match they will work with forged uppers and lowers as well. Your card will be charged when you order and you will ship FIRST! ETA early April. Starting at: $315. Spikestactical.com.
LOWER SPECS
Machined from 7075 billet with Type III hardcoat anodized finish.
Integrated winter style trigger guard.
Ambi bolt release, The Ambi bolt release and bolt catch are installed.
Flared magwell.
Textured on the front of the magwell.
Low shelf for RDIAS.
Captured buffer retaining pin and rear take down pin (no more calls for spares).
Set screw for trigger reset.
Set screw for upper to lower tension.
Bolt catch and bolt release are retained with a threaded pin rather than a roll pin.
Lower can be assembled with out a hammer and punch.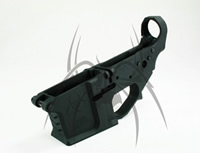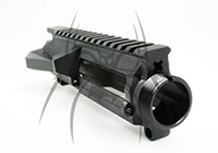 While the upper and lower are a perfect match they will work with forged uppers and lowers as well. $225.00
UPPER SPECS
Machined from 7075 billet with Type III hardcoat anodized finish.
M4 feed ramps.
Beefy design which is stiffer allowing less flex.
Front of receiver is machined to accept most after market rail systems (yes, we play nice with everyone else).
Comes with the forward assist and ejection port door installed (Not shown).
Flared side walls to eliminate accidental bolt release.
The most beautiful lines you'll see on anything other than your wife!
Machined with Clearance to allow use of a BAD lever or other after-market bolt catch.
---
Brownells has begun stocking many AR-15 products from A.R.M.S inc.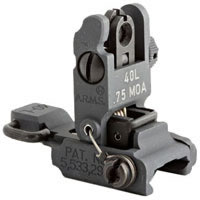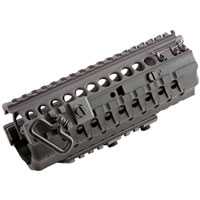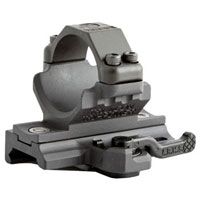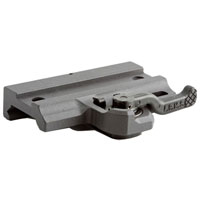 ---
Adaptable Carbine/Storage (ACS) stock is a drop-in replacement for standard USGI M4 collapsible stock that gives the tactical operator extra storage options, a secure, comfortable cheek weld, and an advanced dual-locking lever. Smooth, streamlined exterior contours prevent snagging on clothing, sling, or vegetation, and helps ensure fast exits from vehicles without snagging on gear.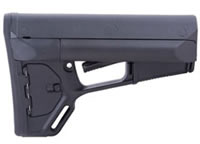 Removable battery storage compartments run the full length of the extra-wide comb and hold 2 AA or 3 CR-123 batteries, while providing a wide, contoured area for an exceptionally solid, comfortable cheek weld. Secure molded rubber caps keep water and dust out of compartments and face the rear of the stock for easy removal; cap exterior is beveled to resist snagging when shouldering weapon. Positive-locking trapdoor on right side of the stock reveals a roomy storage compartment for additional batteries, coiled up cleaning cable and other cleaning supplies, ear plugs, spare parts, or other small items.
Magpul's dual locking system uses an additional cam lever to protect the release lever from accidental operation, yet still allows you to adjust length of pull by simply pushing on the release lever. Slot molded in the toe provides an attachment point for a 1 1/4"wide sling. Also includes the same detachable rubber butt pad found on Magpul CTR and UBR buttstocks to help keep stock firmly mounted on shoulder. Fits mil-spec 1.14" O.D. receiver extension tubes on Colt-manufactured M4 and similar mil-spec tubes that accept both four- and six-position collapsible stocks.
---
As of this writing Brownells has the Magpul PRS OD green in stock for the AR-15 and in black for .308 AR's . Click here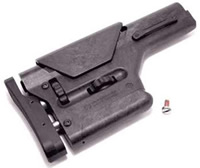 ---
We are going to kick of this site with our first AR-15 build. This first AR-15 project nicknamed "Kita"will be built with long range shooting in mind. In the various menu's of the site you will see the hardware that was considered as well as the final choices made for this gun. The rationale behind the choices will be included as well, whether it be price, quality, availability or all of the above.
Below is a list of some of the specifications I have in mind at the moment
24" bull barrel- Stainless fluted
Free float handguard's
Single stage trigger in the 2-3 pound range
Flattop Upper receiver
Bipod
Ambidextrous adjustable stock
Ambidextrous safety
I've been playing around with Brownells AR15 builder to develop an image of what this project will end up looking like. Ignore the cost listed, I paid no attention to the internals. Click the image below to view it full size.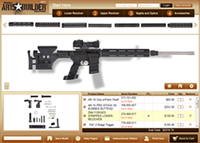 If any readers have hardware suggestions or any other helpful information please drop us a line through the contact page.
---
Well we have been busy doing our part to keep the economy afloat with gun related purchases. Besides boosting the economy our purchases will provide content for this site. So to that end we have acquired (2) CMMG MOD4SA, (1)DPMS LR-308 stripped lowers, Bushmaster lower parts kits less the trigger and pistol grips for the CMMG's and we are waiting for the same from Fulton Armory for the DPMS LR-308. In the optics dept.. we bought a Laserlyte bore sight kit. C Products is selling magazines for the LR-308 for about $22 so naturally we ordered several of those. Ammunition to Go has come through with some Lake City XM855 62gr. Penetrator Ammo (LCM855B)
Check out the images of the lowers for a size comparison. Click on the images for a larger view.
Update: May 12, 2009 we should see the delivery of a CMMG stripped upper and a DPMS LR-308 A3 flattop stripped upper. Pictures shortly. We have also ordered a 24" ER Shaw Extra Heavy Fluted 1:8 barrel. Delivery will hopefully be this century.
---
Click the links below for fast site navigation.
---

---
---
Contact us | View site map | Privacy Policy

| Links