AR-15 News:
---
Brownells is reporting that they have thousands of AR-15 Magazines in stock. Heres the link.
---
Daniel Defense is launching a new AR-15. The Daniel Defense DDXV Carbine is an entry level version of the DDM4 which was launched earlier this year. The main difference is that the DDXV has a standard M4-style butt stock and plastic handguards rather than a fancy stock and rail system. Daniel Defense are making a California specific version that requires a tool, in this case a bullet tip, to be used when changing magazines. This allows it to be Cali-legal, although somewhat decreases its utility as a self-defense weapon. The California version also includes a 10 round Magpul PMAG magazine instead of a 30 round magazine.
---
Extreme Shock Ammunition has added the .223 100 grain Short Ranged Tactical (SRT) to its line of tactical ammo. This specific round was engineered for Close Quarters Combat (CQB) applications and training purposes.
The SRT's 100 grain projectile is a frangible, lead-free design that will fragment on harder surfaces that would typically cause a lead-core bullet to ricochet. This projectile consists of a compressed tungsten powder core that is encased in a high quality copper jacket, with a special DuPont coating to reduce the velocity. It all works to produce lower recoil and minimize muzzle flash, thus enhancing the ability to acquire second shot placement faster.
The dense tungsten core allows it to penetrate less dense materials with ease, while still remaining frangible. The velocity of this design allows it to travel slow enough to penetrate windshields without deflection, yet fast enough to still fragment inside a soft target. With 745 ft. lbs. of energy combined with a 100% kinetic energy drop (which is an advantage over the over-penetration of lead-core munitions), this round is the safest yet most lethal CQB/Training round manufactured anywhere in the world today.
The 100 grain SRT has an MSRP of $41.27 for a 20 round box.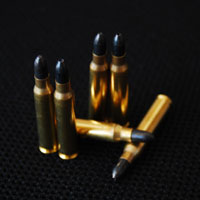 ---
New from CMMG is the 28-round black Teflon magazine with a stainless steel anti-tilt follower and braided wire spring. No other magazine offers greater performance under extreme conditions. New stainless steel ant-tilt follower features superb stability, minimal drag and unmatched durability. Nano-ceramic plated braided wire spring protects 400+ hours against salt sea spray. Multi-strand construction eliminates the magazine from ever taking a set. No single strand chrome silicon spring compares! MSRP $29.95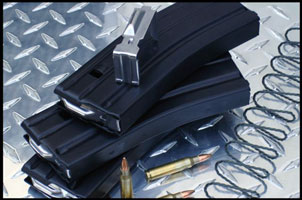 ---
This is American Spirit Arms' ASA-15. It carries a 24-inch stainless steel barrel with a free float tube and fixed stock. What is very unique about this rifle is that the upper receiver and bolt group are situated for operation on the left side. A folding charging handle can be drawn to the rear to actuate the rifle (load, unload, clear). This feature allows the shooter to maintain a firing grip.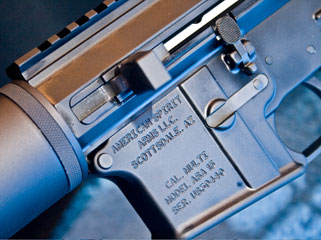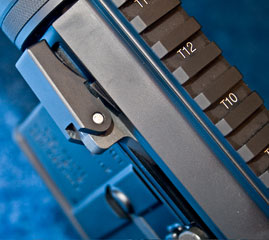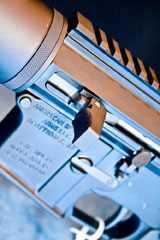 ---
Sun Devil Mfg. has been flying under the radar in regards to their manufacture of high quality upper and lower receivers. At NRA, they introduced their new line of custom anodized receivers that will appeal to all types of AR users including tactical operators, hunters and competitive shooters. One of the newest colors is a matte Teflon nickel that carries a carbon resistant quality.
CNC Machined from SOLID BILLET
Stronger than castings or polymer receivers
Many areas reinforced heavier than GI spec
Several Finishes now available:
Satin Black Hard Anodized
Satin Colored Anodized (check for current availability)
Black Molycoat
Devilcoat (Nickel/Teflon)
Exclusive (Patent Pending) Tension Screw - Built into Lower Receiver:
Sun Devil's tension screw effectively eliminates any unwanted "slop" between upper and lower receivers for superior accuracy.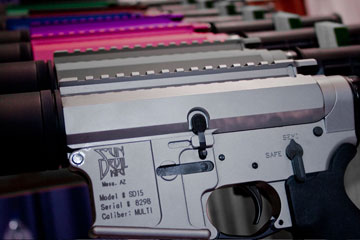 ---
This is a new extendable bipod from Command Arms and Accessories for Picatinny rails. Not only does this attach without an adapter like many other bipods, but it can quickly adjust for height. It also features tactile pads at the feet and another Picatinny rail at the bottom of the bipod's base permitting the attachment of laser and light devices. Available in 6-8″ and 8-12″ models with an MSRP of $122.39.
FEATURES:
Quick release push button leg extension
Legs manufactured from stainless steel
No External Springs
Strong lightweight design
Redesigned feet provide increased stability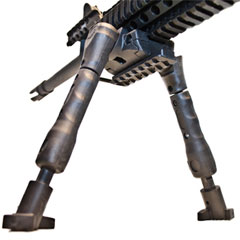 ---
Safariland's latest addition to their newly introduced line of Safariland optics is their RR-CQLR-1. This new magnified scope features a ranging component and illuminated reticle, improving aiming effectiveness in both low light and daylight conditions.
Designed by Pride-Fowler, Inc., the RR-CQLR-1 provides a precise aim regardless of the power or magnification settings. The scope features a convenient fast-focus eyepiece adjustment and multi-coated lenses that reduce reflections and provide a clearer image of the target. The reticle is aligned in the first focal plane, keeping the reticle and target in the same proportion in any magnification. The RR-CQLR-1 is easily adjusted horizontally for windage and vertically for elevation with positive ¼ Minute of Angle (M.O.A) clicks on the low-profile, target-type knobs allowing the shooter to quickly compensate for crosswinds. Any changes made can be reset back to zero by simply clicking a button.
The RR-CQLR-1 is optimal for .308 Winchester and .223 Remington ammunition as well as other similar ballistic coefficients and velocities. The scope's variable magnification is 1-4×24mm and is encased in durable 30mm one-piece 6061-T6 aluminium tube, which is available in a matte black anodized finish.
The new Safariland RR-CQLR-1 has an MSRP starting at $1,290 and is available at Safariland.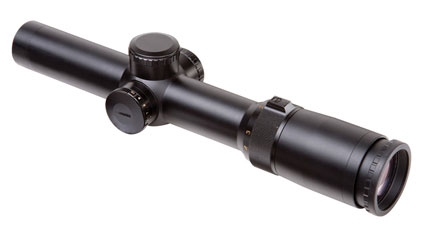 ---